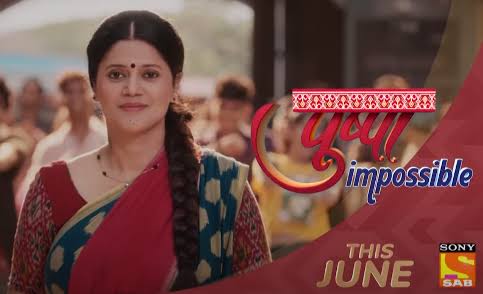 Pushpa Impossible 2nd January 2023 Written Update on TellyExpress.com
The episode starts with Jogi's men and Police following Mansi's car. Mansi's driver takes a short route in order to escape traffic only to find hurdles o the way. Her bodyguard gets down to check and Jogi's bring him at gun point. They kidnap Mansi and Police witness it. They follow the car to find Jogi. Jogi gets the news that Manis is kidnapped. He calls Dharam and threatens him with Mansi's life. He asks him to leave to India as soon as possible. Dharam asks him to not mess with Mansi and promises to give him any money he wants. Jogi says that the thing has reached out of money and he wants revenge for his family. Jogi agrees to come. Pushpa dreams of Dileep coming back in her life and gets scared. Police saves Mansi but Jogi's men escape. They run after him. Mansi regrets for not taking Ashwin's warning seriously.
Bala informs Jogi about Police saving Mansi and Jogi immediately escapes the place. Deepti find Pushpa upset and asks about it. Pushpa says that she had a nightmare and Deepti comforts her. Jogi and his men meet up at a dhaba where Jogi wonders how Police tracked him. He breaks his mobile and finally recalls about his talisman. He removes it. Jogi calls Dharam using Mansi's phone again who says that he has reached airport. Jogi finds tracking device in talisman and plans. He makes Raghu wear it to fool the Police while they would make use of the opportunity to kill Dharam. Mansi deactivates her sim as he phone is with kidnappers. She tries calling her father but his phone switched off. She learns from her assistant that he left out of country and will be back soon. She asks her assistant to keep her accident a secret form her father and he agrees. He gives her details about Bharat Bapodhara and his family and Mansi leaves to meet them.
Rashi leaves first to set up the stall while Pushpa says she will join her later. Pushpa finds Mansi calling Ashwin who's in bathroom and picks her call. Mansi says that she wanted to thank Ashwin for warning her about kidnap because of which she escaped safely. She also wants to thank Chirag who helped Police to track her kidnappers. Pushpa gets shocked hearing it and calls Chirag. She gives the phone to him and Mansi thanks Chirag. Chirag accepts it and cuts the call. Pushpa confronts him about what happened and Chirag narrates the event. Pushpa cries and is disheartened that all three including Deepti and Ashwin hid such big thing from her and is scared of the possibilities. Everyone consoles her and promises to not hide anything from her anymore. Rashi sets up the stall with a tagline that they can pay only if they like the food. Pushpa gets Rashi's call and rushes to school. After she come they dress up s Santa and Pushpa manages to bring crowd to her stall. She gets shocked seeing something.
Precap : Dharam will reach India and someone will accident his car. Ashwin will give blood to save him when Pushpa will come there. She will ask Ashwin what happened and Dharam will get shocked seeing her. She will ask Ashwin what happened and he will say that he just came to give blood. He will introduce Pushpa to Dharam who will thank her. Pushpa will get shocked hearing his voice.
Click to read