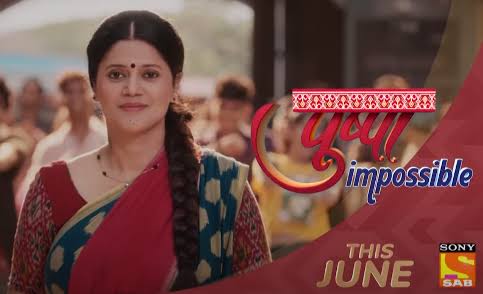 Pushpa Impossible 31st October 2022 Written Update on TellyExpress.com
The episode starts with Ashwin identifying them as Ramesh's friends. They lie that they work in the canteen and speaks emotionally. Ashwin nods and asks them to take things in and leaves. Rashi video records Aryan falling down. Her friends scold her for her act and asks her to leave it. She's not ready to forgive him for what she did. Pushpa is in call with Sonal when Manish calls her. He says that Pratap is at Bapodhar's house for convincing Bapodhara to let Prarthana study in Mumbai. Pushpa says he'll go and help him convince. Pratap says Bapodhara that they couldn't arrange Prathana's admission in Ahmedabad University. He says that she should stay in Mumbai branch. Bapodhara is against it when Pushpa comes there eavesdropping their conversation. She asks Pratap to give the scholarship to two poor girls she knows as Bapodhara doesn.t want it. Bapodhara doesn't want to loose the opportunity and so agrees as it's just a matter of three months. Pushpa signals Prarthana and invites Sushhela for sangeet preparation in the evening.
Sonal is very nervous and is cross checking things again and again over her mother in law's visit. Manish and Deepti treies calming her but in vain. She says how she keeps questioning her for all the silly things. Manish is also somewhat somewhat nervous but Deepti is very much ecited to meet him. Aryan writes in complaint box. Bapodhara watches and comments on Pushpa's sangeet arrangements. The thieves were also present and Pushpa asks them to take help from Mahendar. They keep watch on the almirah for jewels. Pushpa teases Ashavari and asks whether Baskar would be able to attend the wedding. Ashavari says he tried but he couldn't. Pushpa understands his condition and asks her to show through video call all the rituals. The thieves wait for the right time to steal. Chirag says Prathana that the wedding seems incomplete without her presence. She asks is it only wedding but Chirag says her whole life.
Next day morning Pushpa looks at sleeping Ashwin. She recalls a moment when he asked about haldi ritual and is very happy that today is his own haldi. She speaks with Dileep's picture and proudly flaunts that she gave proper upbringing for her kids without his presence and its much better this way. Nanavati and Saran finds letter in bully box. Nanvati reads it and says that the complaint is from the one because of whom they kept the complaint box. He asks Saran to look into the matter. Later everyone were applying mehendi and Pushpa says Ashwin that she won't write his father's initial on it. Ashwin encourages her to not to. Varsha says Pushpa that she said no to divorce and Pushpa agrees to speak with Kaku.
Precap: Deepti's grandmother will get angry at her parents for conducting Deepti's wedding in chawl. She asks if they couldn't find even a single proper house for Deepti to get married. Sonal reasons that it's love marriage but she didn't care. She then asks whether they checked with horoscope and they say no. Dadi says that she won't let the marriage happen without the horoscope matching.
Click to read