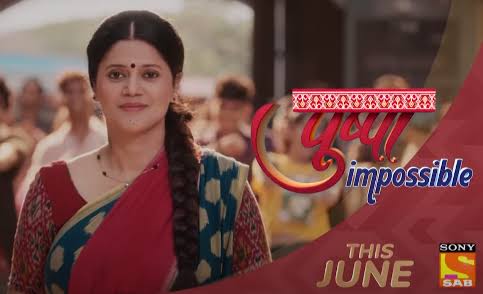 Pushpa Impossible 3rd November 2022 Written Update on TellyExpress.com
The episode starts with Pushpa saying everyone about Sonal and her performing for the sangeet and also about the arrival of Sonal's saasu maa also coming with them. Deepti comes with her family and Dai complaints about none receiving her. Pushpa bumps with Dadi as she was instructing Mahendra from behind. Dadi winces in pain and scolds Pushpa for hurting her hip. Sonal asks Manish to already cancel he wedding while everyone else gets shocked. Pushpa apologizes her and identifies her as Deepti's Dai. She greets her and Manish introduces Manisha and Pushpa to her. Dadi keeps tau ting Pushpa and family while Pushpa had a hard time dealing with her. She throws tantrums for furniture to juice and Pushpa fulfils her requests immediately. Pushpa introduces Rashi and Chirag and gets them to take her blessings too.
The thieves try to make use of the situation to enter Pushpa's house but the manager sends them to serve starters. Dadi asks for Ashwin's kundali while Pushpa has a hard time dealing with her. She goes in followed by others and Dadi sends Sonal and Manish with her too. Pushpa is very much scared and says Sonal that she now understands the reason for her fear. She asks Manish whether she's really her son as it's seems difficult to believe it. Sonal asks her to come up with a solution and Ashwin suggests to say the truth. Pushpa alsothinks that it's the right thing and decides to say the truth. Kaku comes to Dadi and introduces herself to her. She says that Pushpa is like a daughter to her and also says that Pushpa is someone who raised above difficulty. She says that she doesn't trust in kundali and so didn't write it. Dadi gets shocked and angry hearing it.
Kaku gives example of Neelima and her own son who got married with all rituals and consulting thekundali but still one lived in hell while the other are in talks for divorce. She aslso says about Susheela who's husband is very dominating and has a life only to fulfil his wishes. She says that on the other hand there is Ashavari who's like an angel to the place who lives a happy married life with her husband after love marriage. She says that she's not mocking her belief but pleads her to not separate making kundali as an excuse. Ashavaria slo pleads her for the same. Ashwin and Deepti go on their knees for accepting the wedding. Dai have a change of heart and blesses them for Deepti;s happiness. Everyone gets elated. Rashi calls Atharv and expresses her nervousness towards dancing. Sonal and Pushpa get on stage and expresses their happiness to become mother for each others kids and says a poem before starting their performance.

Precap: Kunjbal and Radha Kaku will perform on sasural genda phool song followed by Ashwin and Deepti performing on Kesariya song. The thieves make use of the situation and gets their hands on the almirah.
Click to read