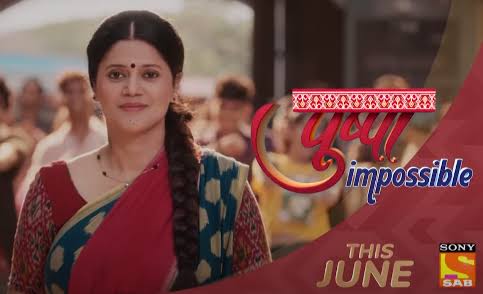 Pushpa Impossible 4th January 2023 Written Update on TellyExpress.com
The episode starts with Bala disguising as Police visits Dharam's ward. Mansi learns about her father's accident and says that he's in need of A- blood. Ashwin who hears at all says that his blood group is the same and Mansi takes him with her. Ashwin calls Pushpa to bring the medical file explaining the situation to her. DCP Tejaswi rushes to Dharam's ward upon knowing that another inspector already visited him. Pushpa is on her way to the ward too in lift. Bala reaches Dharam's ward and cuts off his oxygen supply. Dharam struggles to breathe. Pushpa is enquiring about Dharam and Bala hears it. He hides behind door while Pushpa sees Dharam struggling to breathe through the glass from door. She rushes to him and fixes the oxygen mask. Tejaswi points gun at her thinking that she's trying to kill him. Pushpa explains the situation. Manoj identifies Pushpa as Chirag's mother. Bala is hiding behind the curtain in bathroom.
Doctor comes there and DCP says that there is danger for his life and asks them to not let anybody else inside the ward. Pushpa leave outside while Manoj checks the washroom. He fails to check behind the curtain and Bala escapes. DCP scold's constable for not guarding well. Mansi comes rushing there and DCP informs her about the second attack on her father. She says that it seems like an old vengeance and it's Jogi's work. She says this time Pushpa saved him and Mansi thanks her whole heartedly. Mansi leaves to meet Dharam while Ashwin provides his medical file to Doctor. He agrees to let him give medicine and takes him with him. Tejaswi suspects that Jogi is some where near them. Manoj asks Tejaswi's personal interest on the case. DCP says it happened 17 years ago when a bridge collapsed due to the greed of few people and many people died in it including her father.
DCP says that everyone who got involved in it got arrested but accidentally the jail caught fire and everyone were dead except one. She suspected Jogi Dhayal for sending him away using fake passport which is why she tracked him down but he never opened his mouth about the same. She says that she won't remain in peace unless and until she finds the person. Bapodhara comes to Oberoi's office to find Sunny there. Sunny got all the details from Mansia nd confronted Bapodhara about the same. Bapodhara clears that Bharat himself named his share on his name and he's legally strong. Mr. Oberoi asks him to sign the NOC but he refuses to sign it at any cost. Pushpa is surprised with their connection with Dharam. Mr. Oberoi refuses to go ahead with the deal without getting the NOC.
Precap : Mansi will say Dharam that their company's employee Ashwin Patel nd his mother Pushpa Patel were the ones who saved him and he will ask her to thank them. Mansi will ask him to thank them himself and calls them before him. Dharam will get shocked seeing Pushpa and his heartbeat increases. Mansi will rush to call Doctor .
Click to read