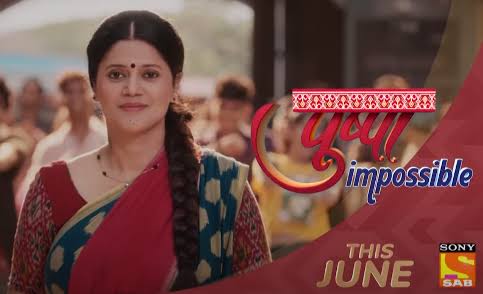 Pushpa Impossible 5th January 2023 Written Update on TellyExpress.com
The episode starts with Dharam getting treated. Jogi is still in washroom waiting for a chance to escape. Mansi thanks Pushpa and her family for their multiple helps. She says that she feels they are bonded strongly in a way. Pushpa asks her not to thank continuously and is about to leave when DCP comes there. She notices Jogi movement inside ward through glass door and catches him red handed. They leave after arresting him. Doctor says that he's stable now. Dharam wakes up and Mansi narrates what happened. She says about their employee and his mother saving him. He ass her to thank him and she asks him to thank himself. Pushpa takes her leave when Nurse calls both Ashwin and Pushpa inside on Mansi's saying. She first introduces Ashwin and then Pushpa comes in. He gets shocked seeing her while Mansi introduces her too. He recalls his past life with her. Suddenly his heart rate increases and Mansi rushes to call Doctor.
Doctor rushes in and asks Mansi to not stress him as his BP shot up. He calls Mansi and Pushpa gets shocked hearing his voice and recalls Dileep's abuses. Pushpa says Kaku that his face is totally damaged but he still saw her with one eye and soon his BP shot up. She suspects him. Kaku says that fear has wrapped the sound around her head and couldn't forget. Pushpa asks how can the resemblance be this close. Kaku says that she's trying to make her forget the past but she's holding firmly on it. She asks her to forget it. Pushpa lies on her lap and the recent events revolve around her mind. Next day, Dharam is having food when he asks pen and paper from Nurse. Nurse leaves giving it to her. He draws family tree of Pushpa and only knows Ashwin and Chirag. He ahs no idea about the third child. Pushpa couldn't get herself to forget Dharam. She recalls Kaka's advise has cricket ball hits her. She leaves to play cricket.
Rashi complaints about Pushpa leaving to paly without studying but Deepti also joins her. Pushpa is recalling her subjects along with playing. Radha Kaku appreciates her for not stopping to live her life for anyone. The cricket ball hits Bapodhara's plate. Bapodhara comes out to shout at those who hit the ball but everyone pretends to be busy with work. He leaves and gives the ball to Susheela to not give to anyone without asking him. Susheela asks him to concentrate on the main deal where he couldn't tie up with either Oberoi or Mansi. Bapodhara says that Sunny is adamant to not sign NOC. Susheela advises him to not eye for others money and asks him to give Sunny's share to him. Bapodhara's refuses to do so and decides to go back to Mansi as Oberoi no more can blackmail him. He plans something against Sunny.
Mansi snatches the family tree paper from Dharam and he gets scared. She gets Bapodhara's call and Dharam again gets shocked hearing his name. Bapodhara suggests to tie up with her again. Mansi taunts him and calls him to hospital to discuss. Dharam says he's stressed nd not let anyone enter. She agrees and leaves. He crushes the family tree paper. Dharam curses his fate and wants to leave India soon.
Precap : DCP will check the trash can and will find the family tree paper crushed in it. She will get doubtful. Pushpa will get electrocuted.
Click to read