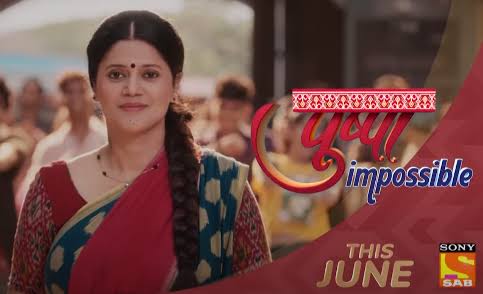 Pushpa Impossible 6th January 2023 Written Update on TellyExpress.com
The episode starts with Pushpa saying Nanavati about Insurance which Baskar told to her. Nanavati says that along with life insurance there is another insurance which is education. He says that education helps them in the most difficult times of their life and asks her to concentrate on prelims. Saran says that he's visiting her chawl today a nd Pushpa invites him for food. Saran sir he would love to but this time Kaku has invited him for food. Pushpa says Kaku didn't share it with her and agrees to make something from her side too. DCP asks Jogi the reason for trying to kill Dharam Raidhan. He says about Dharam getting fake passport from him to go to Dubai on 2005. DCP thinks that it's the same year of bridge collapse and wonders if he's the person she's searching. Pushpa is lost in thoughts when Deepti asks what happened. She says Ashwin's father is revolving in her head.
DCP comes to meet Dharam and sends Mansi outside. She asks Dharam the reason for Jogi trying to kill him. Pushpa shares about Hyderabad bridge collapse and Dileep getting arrested for the same. Deepti gets shocked hearing it. Dharam lies that he has no connection with Jogi and he only kidnapped Mansi and threatened him for money. He says he came to India only to give money but his accident happened. She asks why would he want to kill her if he's ready to give the money. Dharam says it's her who needs to find it. Pushpa shared with Deepti about how much she suffered alone with her kids and Deepti cried for her situation and consoles her. Light goes off and Deepti asks how will she study now. Pushpa says fuse would have gone and goes to check it. DCP asks for his citizenship proofs and Dharam is ready to submit it. He asks why does he feel that she considers him the criminal over Jogi and DCP says she's just doing her duty.
Pushpa while checking the fuse gets electrocuted and falls down fainting. Deepti who comes there spots her unconscious and calls her for help. Doctor treats Pushpa and Pushpa couldn't move her hand. Doctor says that due to high voltage her hand is paralyzed temporarily and will be fine soon. Pushpa asks what could she do without hand and says she has her prelims too. Doctor leaves while Kaku and others consoles her. They ask her to rest. DCP leaves asking him to take care. Cleaning lady comes to clean the ward and DCP asks her to meet her out after cleaning DCP asks Mansi to give them details about her father's everything from his start to end. Cleaning lady comes out and DCP asks her to empty the trash bin. She gets hold of Pushpa's family tree drew by
Precap : Chirag will sketch Dharam's picture upon Jogi's saying. He will get surprised seeing it resembling his father's face and says the same to DCP. DCP will visit Pushpa to enquire about Dileep.
Click to read