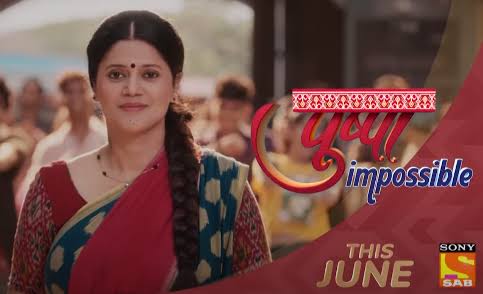 Pushpa Impossible 7th June 2022 Written Update on TellyExpress.com
The episode starts with Pushpa getting Sonal's call. She will ask her to come to her house and cook for 30 members but Pushpa will say that she stopped visiting house for work as her children for work. She suggested Kokila who's a good cook like a her for her work. Sonal is not sure but Pushpa convinces her. She says that she's guarantee for Kokila. Sonal agrees and asks her to forward Kokila's number. Pushpa agrees and cuts the call.
Next day Pushpa is shopping things in market and will surprised seeing the mentally challenged Golu doing work amazingly. She gives credit to the shopkeeper for it who trained him well. She finds the bill surpassed her current amount but shopkeeper asks her to pay later. She then gets Kokila's call who says that her husband fell ill and can't able to visit the Parikh's house for cooking. Pushpa has no option but tk go herself to keep her word.
Pushpa visits Parikh's house and the maid Sarita opens the door. Pushpa confirms the address with her when Sonal comes there. She scolds her for coming late but Pushpa says that she's Pushpa and not Kokila. She says that Kokila's husband fell ill which is why she came in her place. Sonal asks her to make it fast and asks Sarika to keep watch on Pushpa. Deepti invites Ashwin home for the part and use the opportunity to meet her parents.
Ashwin is not confident enough but Deepti encourages him. She's about to ring the bell when Ashwin gets Pushpa's call. She says about coming for work due to unavoidable circumstances and asks him to go soon and feed Rashi and Chirag. He agrees and apologizes Deepti. Deepti understands him. Tashi scores very less in her studies and her friend advises her to take uo coaching classes. Rashi couldn't afford the fees and wonders what to do.
Deepti greets her mother who urges her to get ready for the party. Deepti gets ready for the party. Pushpa finds that Sarita made mistake in groceries and that there's no pizza bread present in provision. Sarita gets scared but Pushpa thinks of a way. She starts making cauliflower bread and other vegetables. Deepti while passing by loves the smell but couldn't see Pushpa. Sarita says what happened and Deepti is about to meet Pushpa but her mother calls her.
Deepti greets the guests with her mother's when her mother introduced her to one of her prospective date Rahul's mother. Deepti takes her mother side and says that she can meet Rahul as she loves her co worker Ashwin. Sonal asks about Ashwin's background and she says that he lives in chawl. Sonal gets upset. Deepti convinces her parents to not overlook her choice just because of their background. Her mother agreed but with a warning that if she feels that the guy doesn't deserve her then she must obey their words. Deepti agrees.
Deepti calls Ashwin and says about her parents wishing to meet them in their house. Ashwin gets worried about and shares it with his siblings. Sonal lashes out at Pushpa for her fusion cooking of Italian with Indian. Pushpa in order to save Sarita took the blame upon herself that she tried something different. Sonal feels caught up at the last moment but have no option. She asks Sarita to take it to buffet table and Sarita feels guilty. Pushpa says it's fine.
The guests looks astonished at the items on the table while Sonal prayed in her mind. They taste it and was awestruck with the fusion. They praise the cook but Sonal took the credit saying that it was her plan. They all loved the food including the Deepti and her father. Her father gives her money to tip the cook well and Deepti leaves to give the tip to Pushpa.
Precap : Rashi will ask Pushpak to groom herself over the house as Ashwin's future mother in is more interested in meeting her. Sonal will be on her way to meet Ashwin's family with Deepti and her father as she will wish to see the reality without them making up things for their visit. Pushpa will be playing cricket when they visit and the ball will hit Sonal shocking everyone.
Click to read