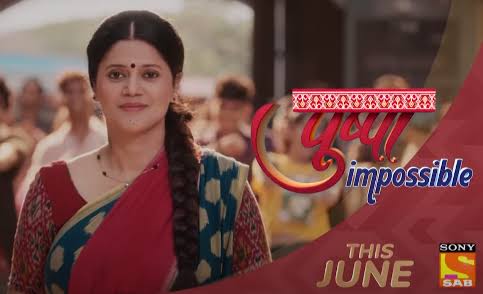 Pushpa Impossible 8th July 2022 Written Update on TellyExpress.com
The episode starts with Pushpa and Rashi getting ready together for school. They both come out in uniform and Chirag and Ashwin compliments them. He clicks their picture together but Rashi is least interested. She leaves first. Ashwin offers to drop her in school but Pushpa says she'll go herself and asks him to go with Deepti who's waiting for him. Ashwin takes his leave while Chirag clicks selfie with Pushpa. He comes out when Prarthana hurries to him and scolds him for not picking up the call. She asks him to leave immediately as Bapodhara has planned a trap for him.
Chirag tries running away but Bapodhara catches him. He accuses Chirag for stealing his shirt but Chirag denies it. Bapodhara says he has doubt on him for long and says he's just like his father. He asks him to remove the shirt as he has his initials printed at the back of the shirt. Pushpa also comes there and asks Chirag to remove the shirt if he's innocent. Chirag removes it and Bapodhara finds his initials on the shirt. He calls Chirag a thief and the whole Chawl watches it.
Pushpa slaps Chirag for stealing and asks if he's shameless. Bapodhara asks how will he have shame when the whole family is shameless. He says his brother is roaming with a rich girl while he's stealing. He also accuses Pushpa for going to school wearing uniform in the age and that too on the saying of some rich person. He character assassinates Pushpa with Nanavati and Pushpa gets disgusted hearing it.
Whole Chawl got shocked hearing him while Bapodhara continues insulting Pushpa. Some someone slaps him hard and it turns out to be Radha Kaku. She scolds him for using the same reason to put down by raising finger on her character and says it just shows his cheap mentality. She asks him to apologize Pushpa writing on the board and Bapodhara apologised grudging. Pushpa says Bapodhara to not vent Chirag's anger on her in such a cheap way and signals Chirag to apologize too. Chirag apologizes Bapodhara through the board. She also asks Chirag to pay the money for the shirt by himself.
Rashi comes to class and finds Pushpa not there yet. She wonders whether she gave up on her studies. Teacher comes there and starts the class. Parminder and few more students come late and Teacher made them stand outside. She takes attendance and asks Rashi about her mother. Rashi makes up some excuse. Pushpa cries hugging Radha Kaku. Kaku says that every woman has to undergo this agnipariksha from the time of Seetha and asks her to leave.
Pushpa before leaving makes Chirag swear on her in front of temple to never repeat his mistake. Saran and Nanavati discuss about why Pushpa didn't come yet even after resolving her problem. Nanavati says Saran that Pushpa is really a special student but she shouldn't get any special treatment and should be treated like every other student. Pushpa catches an auto to rush to school.
Bapodhara is fuming over his insult and gets angry at everyone. He warns Prarthana to stay away from Chirag. Chirag's ironing friend comes there and Bapodhara expels him from the colony. Chirag sees it all. Chirag's friend pleaded a lot but in vain. Nanavati scolds Pushpa for coming late and Pushpa just listens to his scolding. Chirag's friend gets angry at him for being the reason for his condition.
Precap : Rashi will say Pushpa that with the speed she's learning English it's impossible for her to cope up with. She will forward her hand as a challenge and Pushpa takes it. Rashi will say in her mind that no matter how much she tries she will make sure to win her and throw her out of the school.
Click to read