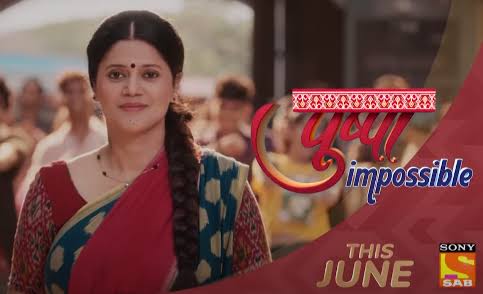 Pushpa Impossible 8th November 2022 Written Update on TellyExpress.com
Episode begins with Baa telling Manish about no rules being here. Sonal sees them from far and signs Manish to agree with Baa. Manish agrees with Baa and says I will talk to her. Baa keeps murmuring and goes inside. Sonal comes from inside and takes Manish with her. Sonal takes out shagun thaal with her and goes. Manish tries to ask him when Sonal says I will tell you later. Sinal gives the jewellery boxes to Pushpa. Pushpa is confused about not knowing what to do. Sonal gives Pushpa her swear so Pushpa takes it. Sonal says I just hope tomorrow marriage happens well, then we will see for the lost ornaments. Here, Ashwin and Chirag are seeing the video with the police. They see a waiter and they get suspicious of him. Police tell them these waiters only have planned the theft. Chirag says let's catch the catering one. Police says they won't as many thieves come as waiter without the agency knowing it. Police says we will try to find these faces and they will soon try to sell the ornaments and we will catch them.
Next day, Ashwin asks Pushpa not to worry about ornaments as police will find the thieves. Pushpa says Sonal helped me a lot yesterday regarding this, now leave all this let's be happy for your marriage. The haldi ceremony starts at both end. Here, Sonal and Deepti are happy. Sonal is about to start the haldi ceremony when Baa stops her. Pushpa starts Ashwin's haldi and they all starts the ceremony. Everyone puts haldi on Ashwin and have fun. Ashwin asks the videographer if sent the edited video to him. He says yes. Here, Baa says I will start the haldi. Sonali lets her start the haldi. Baa puts haldi on Deepti.
Here, Police and Chirag are watching out for the thieves. Police says we have our men dressed as commoners to keep eye on them. Here, Baa taunts Sonal for not wearing something yellow. Sonal says my outfit has not come yet. Just then her saree is delivered, Baa says this is perfect, now go fast not like how you came home late last night. Sonal says I went to get Deepti's garment as it had gone for alteration. Baa says but Manish said you went for some client emergency. Sonal says Manish must be sleepy I said it was Deepti related emergency. Baa says okay. The haldi ceremony of Ashwin and Deepti continues. Manish gets emotional seeing Deepti's haldi. Sonal consoles him. Deepti also gets emotional. Sonal also does haldi of Deepti being emotional but asks Deepti not to cry.
Just then Deepti gets a video call from Ashwin. Baa picks it up and says have some patience to see Sonam now. Manish says do an audio call. Baa says yes although I don't want that too but you can do audio call. Ashwin does an audio call and Deepti talks to him. Here, Police gets a call and he gets a lead from a jewellery shop. They all leave for the location. In the CCTV, police sees the boys who came to sell the jewellery and takes the footage on mail. Police says they must have been alerted so we need to be careful, you go to your brother's wedding we will handle from here. Police leaves. Pushpa is praying when Kaku comes asking for theft. Pushpa says the police is looking into it. Chirag calls Pushpa and informs her about the update. Pushpa asks him to come back as baraat is ready. Pushpa tells Kaku about the same and Kaku asks her to enjoy the wedding for now. Bapodhra hears this and thinks how can Pushpa arrange new jewelleries over night, I need to investigate.
Episode ends.
Precap – Deepti and Manish's wedding starts and Baa stops the phere saying Pushpa cheated them and she is a fraud.
Click to read