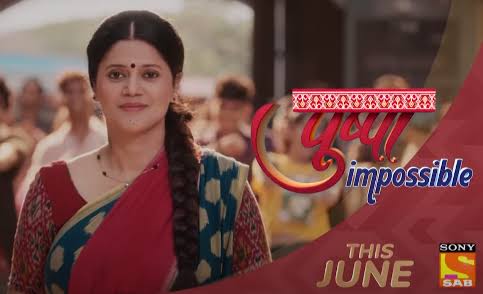 Pushpa Impossible 9th July 2022 Written Update on TellyExpress.com
The episode starts with Chirag sharing his guiltiness towards his friend to Prarthana. Unlike every time, Prarthana lashes out at him for his actions and leaves angrily. Deepti's head praises Deepti and Ashwin for their good work and leaves wishing them. Another head tries manipulating Ashwin but he doesn't give in. He shares about the other head continuously waiting for them to do some mistake so that he could make use of the opportunity. Deepti says that his dream matters to her too and says they would definitely win together.
Pushpa is doing the cleaning and other guys who were also punished just watched her cleaning. They leave happy that Pushpa would do their part of work too. Parminder feels bad seeing Pushpa and asks if she's not ashamed to do the cleaning. Pushpa asks why should she be ashamed for doing work and says not at all. She explains him how it's important to face the consequences of their actions.
Parminder agrees with her and starts cleaning with her. Nanavati sees it and is happy and proud of Pushpa. Rashi sees Pushpa cleaning at home and taunts her for doing the same at school. She asks her to let it go as studies is nit her cup of tea but Pushpa refuses to back off. Rashi says in mind she would make sure to win the challenge and expel her out of school. She forwards hand for the same and Pushpa takes it. She says that the victory is hers be it she or her whoever wins.
Rashi is with Ashavari who's worried about Pushpa having continuous struggle without ounce of rest. Pushpa who's filling the jar with pickle says Ashavari that she is like the pickle jar which may seem full but can always have place for more. Saying so she adjusts the jar so that all the pickle could accumulate it. She says there's no pain without gain. Chirag comes there and says to her about Deepti's parent's visit. Pushpa comes there with Kokila and introduces her to Deepti's parents. She greets them and gives them snacks. She is about to use her hand to serve it and sees Sonali's dislike on her face and serves with spoon. She says she don't want the same thing to repeat like first time.
Sonali says due to Covid they need to follow hygienic ways. Pushpa says Thad still her hand gets used by only her mouth but the spoon gets into many mouths. Sonali stops the spoon in mid air before taking it to mouth. Pushpa serves them tea and Sonali again cringes seeing her drinking using saucer. Manish says about being there to finalise the writings on invitation card before getting it printed. He spells the spellings and Pushpa agrees it. She gets upset upon hearing her husband's name Dilip Patel but doesn't say anything. They take their leave asking for guest list.
Pushpa looks at the invitation and her husband's photo. She says he never did anything but his name is in the card. She shares her palm with Radha Kaku. She recalls an incident when her husband abused her for still adding her father's name after her name even after marriage. She says looking at picture that she no more have the need to fille what he said and rewrites in the card her father's name scrapping her husband's name. Chirag offers Pushpa to drop her in school. Pushpa is still angry at him but Chirag convinces her and makes her smile. Rashi and Pushpa comes to school and both Parminder and Sam become friends with her. Rashi gets even more angry at Pushpa for snatching her friends too.
Precap : Pushpa will ask Sam to read the notice which she got and Sam will say that Bapodhara has sent official notice for her to vacate her house. Chirag will plead Bapodhara to forgive him and not punish his family for his mistake. Bapodhara will give a choice to Chirag to choose between his family and his ironing friend Munna Pandey. He will say that only one among them can stay in the Chawl.
Click to read