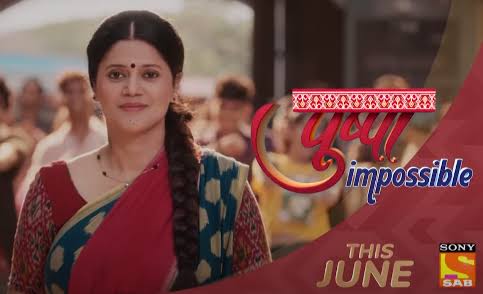 Pushpa Impossible 9th November 2022 Written Update on TellyExpress.com
The episode starts with Pushpa making Ashwin sit on horse for wedding. She recalls Dileep planning to get him married in childhood but she was against it. Bapodhara taunts her for not having jewelry but making noise like she owns everything. Chirag and Rashi plan to protect Ashwin's shoes as Deepti's friends plan to steal it. They all leave dancing with bharat while Bapodhara thinks about the jewelry. Kunjbala didn't like the ladies dancing at bharat. Bapodhara introduces him self to her and she introduces back. She taunts him too. Sonal welcomes Ashwin with all the rituals. Kunjbala asks her to bring him in pulling his nose according to customs. Others tries blocking his nose but Ashwin asks them to let her do it. Sonal apologizes him. Deepti comes there and everyone are astonished with her beauty. Ashwin and Deepti share an eyelock while others tease them. They exchange garlands and gets in.
Pushpa takes Sonal aside and says about her fear of getting exposed. Sonal calms her down and asks her to enjoy the wedding she offers her juice and they cheer for their new relationship. Chirag and Rashi make a plan to save Ashwin's shoes from getting stolen. Chirag steals Bapodhara's shoes on pretext of getting his blessings. Bapodhara taunts him and is unaware of his actions. Rashi also gets Ashwin's shoes. Chirag and Pushpa puts Bapodhara shoes in a box and place it under a chair in front of Deepti's friends. They steal it thinking it to be Ashwin's shoes. Bapodhara realizes his shoes are missing and is searching for it. The girls bring the shoes and asks Ashwin to pay them 1000 rupees for the shoes. Rashi reveals that she has Ashwin's shoes and it's not his. Bapodhara says that its his shoes and asks them to return it. They refuse to return without money no matter whose shoes it is.
Pushpa and Ashwin gets worried while Bapodhara lashes out at Chirag for fooling him. Baskar offers to give the money but Bapodhara himself gives it to save his prestige. He gets back his shoes and leaves angrily. Pushpa lashes out at Chirag for keep messing with Bapodhara knowing well that he won't take it for fun. Bapodhara also complaints to Susheela about Chirag insulting him. Susheela leaves saying that all types of pranks will take place during wedding. Bapodhara says that it's not prank but an insult to him. He swears to get his revenge by insulting Pushpa. Pandit asks Pushpa to show the jewels so that he could keep tilak on them. Pushpa opens it and he keeps it. Bapodhara gets shocked seeing the expensive jewels and wonders how she arranged it when her own jewels were stolen.
Precap: Ashwin and Deepti's wedding will take place when Kunjbala Maasi will stop the wedding. She will accuse Pushpa for being a fraud for cheating her while everyone will get shocked hearing it.
Click to read