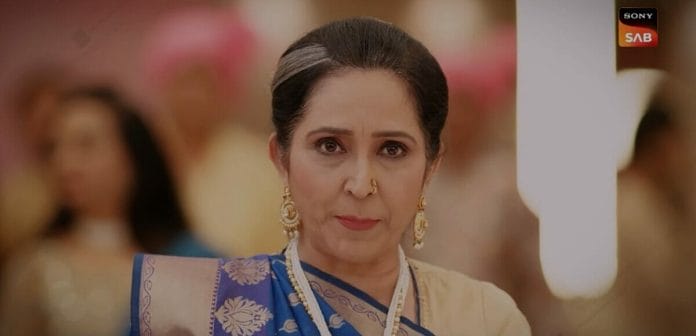 Pushpa Impossible Spoilers, Upcoming Story, Latest Gossip , Future Story, Latest News and Upcoming Twist on tellyexpress.com
Sab Tv popular show Pushpa currently focuses on Pushpa struggling to choose between Ashwin's marriage and award ceremony while also handling Kaku's family issue.
Previously it's seen that, Pushpa and Sonal gave a sweet speech before starting their performance. Ashwin and Deepti gave a mesmerizing performance followed by a trio performance by Chirag, Prathana and Rashi. The thieves couldn't spot the jewel in the locker. They make an alternate plan. Kaku and Dadi gave a combined performance followed by Sonal and Pushpa's mindblowing performance.
Manish's emotional speech and performance moved everyone's heart. Susheela confronted Bapodhara regarding Ramesh but he made up some excuse. The thieves switched off the power to steal the jewels and get succeeded in doing it. Pushpa unable to bear the taunts showed the jewels to Kunjbala Maasi before it went stolen.
Everyone rejoiced as Baskar returned to India and decided to settle forever. Pushpa and family learnt about the stolen jewels. Chirag and Ashwin lodged a complaint in the police station. Inspector asked for cctv footage from sangeet. Pushpa shared about her worry with Kaku whoa sked her to keep it a secret.
Pushpa informed Sonal who came up with a solution. She convinced Pushpa to take her jewels to gift to Deepti to save their face. Pushpa was against it buy Sonal convinced her.
In the future episodes we will witness, Ashwin and Deepti's wedding will take place when Kunjbala Maasi will stop the wedding. She will accuse Pushpa for being a fraud for cheating her while everyone will get shocked hearing it.
Will Ashwin and Deepti gets married? Will Pushpa gets back her jewels? Will Bapodhara's secret will be out?
All these questions will be answered in the upcoming episodes.
Stay tuned for more details.