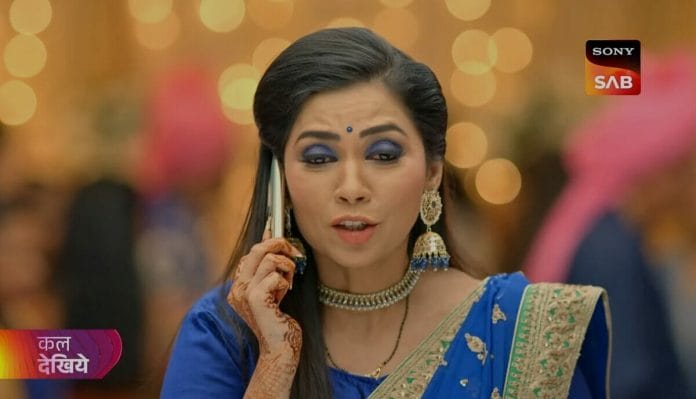 Pushpa Impossible Spoilers, Upcoming Story, Latest Gossip , Future Story, Latest News and Upcoming Twist on tellyexpress.com
Sab Tv popular show Pushpa currently focuses on Pushpa struggling to choose between Ashwin's marriage and award ceremony while also handling Kaku's family issue.
Previously we have seen that, Chirag and Ashwin lodged a complaint in the police station. Inspector asked for cctv footage from sangeet. Pushpa shared about her worry with Kaku whoa sked her to keep it a secret.
Pushpa informed Sonal who came up with a solution. She convinced Pushpa to take her jewels to gift to Deepti to save their face. Pushpa was against it but Sonal convinced her.

Chirag and Police gets close to catch the thieves while Bapodhara learnt about stolen jewels. Pushpa came to Deepti's house with Ashwin's bharat. Chirag pranks on Bapodhara who avenges to hurt Pushpa for the insult. Bapodhara got doubtful seeing the expensive jewels present on Pushpa's shagun plate and wondered how she managed to get it.

He learnt that the jewels were of Kunjbsala Dadi's and said it to her. Dadi insulted Pushpa in front of everyone while everyone defended Pushpa. Sonal and manish told the truth but Kunjbala demanded her to apologize.
Deepti was against it.
Pushpa apologizes when Police brings the stolen jewels to her. All ends well while pushpa feels blessed to have Deepti and her family.
She promised to not let a drop of tear come out of Deepti's eyes.
In the future episodes we will witness, Lawyer will call Varsha and will say that he's outside Bapodhara chawl.
He will say that they only need to get signature from Radha Kaku and Pushpa as witness. Pushpa will hear as Varsha will ask him to make the property transfer papers ready. She will get shocked seeing Pushpa there.

Will Varsha manages to fool Pushpa and Kaku? Will Bapodhara's secret will be out?
All these questions will be answered in the upcoming episodes.
Stay tuned for more details.