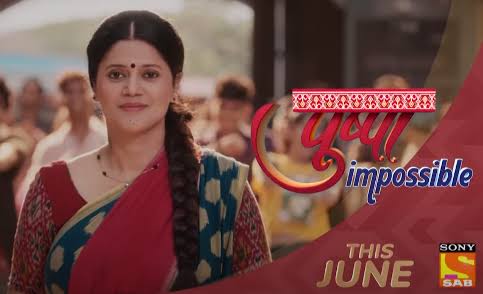 Pushpa Impossible Spoilers, Upcoming Story, Latest Gossip , Future Story, Latest News and Upcoming Twist on tellyexpress.com

Sab TV channel launched a brand new show titled Pushpa Impossible starring Karuna Pandey alongside Garima Parihar and Darshan Gurjar. The show currently focuses on Pushpa getting admission in school while Rashi against her decision.
In the previous week we have witnessed, Deepti credited Ashwin for her promotion but Ashwin told that it's a team work. She planned to throw a party for the same. Pushpa also got happy to learn about Deepti's promotion and took the admission form and went to Kaku's house. Rashi followed her being sure that she would share the real reason with Kaku.
Pushpa asked Kaku to fill the form and Rashi learnt about Pushpa planning to study in her school. She got angry. The next day, Ashutosh and Pushpa attended the meeting with the trustees. The teacher with whom Pushpa fought earlier was also present there. They refused to give chance to Pushpa as it would create a mess among parents of normal students.
Ashutosh encouraged Pushpa to not lose hope and asked her to prepare her own presentation while he would schedule another meeting with them. Pushpa waited for Ashutosh's call and slept in tiredness. Rashi found his message about the meeting scheduled the next day and deleted the message. She also took her phone with her.
She reached school and found all the trustees assembling there for meeting. Ashutosh kept calling Pushpa but Rashi cut the call. Rashi's friend Sam asked about her mobile and Rashi narrated whatever happened. He's ashamed of her act and left angrily. Rashi doesn't want to face any kind of embarrassment.
Board members got angry that Pushpa didn't attend the meeting and thought that she was not serious about her studies. They all left for their classes. In the evening, Rashi deleted all the calls and messages and gave the phone back to Pushpa. Pushpa was surprised seeing none. Ashutosh came to Bapodhara's Chawl and took Pushpa aside as her kids were present.
He asked about the meeting which she didn't attend and Pushpa told that she lost her phone and didn't get any message or call. He asked her not to worry and said he arranged another meeting the next day. Pushpa by hearted his mobile number in case of emergency. Pushpa checked who took her mobile and caught Rashi red-handed. She scolded Rashi while Rashi confronted her for trying to study in her school.
Rashi angrily confronted Pushpa about trying to study the same class as her at this age in front of urge whole Chawl. Pushpa answered back that she just wanted to study and was not doing anything wrong that they had to be ashamed of it. Bapodhara mocked Pushpa for her stupidity and Chirag got angry when he continued insulting his mother.
Pushpa reasoned that it was them who forced her to take the decision by name calling her as uneducated, loud mouth and whatnot. She gave examples of Neelima and another girl who were facing the burden of the society as they couldn't stand on their own legs being uneducated. She wanted to inspire those who wanted to achieve irrespective of their age.
She asked them to decide what is more shameful to them – her being uneducated or her trying to study. She made it clear that she would definitely enroll in school and asked them to do whatever they wish. Pushpa got support from other Chawl members. Deepti kept calling Ashwin as he had not reached the party.
Ashwin picked up her call and explained the situation there shocking Deepti. Kaku supported Pushpa for taking stand for herself and Pushpa worried to lose her loved ones because of her dream.
Kaku assured that her loved ones would never leave her for no mistake of hers. Deepti's parents were also in shock over Pushpa's decision and had mixed feelings regarding it. Chirag and Ashwin discussed about the current mess but where also upset with Rashi's behaviour towards Pushpa. Pushpa got ready for the presentation while Rashi prayed that Pushpa doesn't get admission.
Pushpa gave her presentation in front of the trustees and Ashutosh supported her. She got a tie in vote and Ashutosh told that he can't vote for her as he was the one who suggested her name to the committee. He told that a certain Saran Sir's vote would be the deciding vote. Rashi prayed for Pushpa to not her the admission. Sam gave snacks to Pushpa which was not liked by Rashi.
She asked him to choose between her and her father but Sam left upset. Ashwin narrated whatever happened to Deepti and her family. Sonali felt that Pushpa should consider the embarrassment her children would face because of her decision. Pushpa waited outside when a guy comes in cycle. They bonded well very soon and even plucked mangoes from tree together. Pusher asked to him about Saran Sir and told that it was her admission meeting happening inside.
Saran teased Pushpa when she told that it was her admission talks going on and Pushpa scolded him. He apologized her and left from there. He was revealed to be Saran Sir and he gave his vote in favour of Pushpa. Ashutosh gave the happy news to Pushpa who was very happy and cries in happiness.
Rashi saw her crying and misunderstood that she didn't got admission and sighed in relief. However Rashi got shocked when Pushpa wrote on class board her roll number and class and Rashi got shocked. Pushpa recalled her father seeing Saran's cycle. Saran came there and introduced himself to her. He made her ride cycle and revealed that he was testing when they met first time.
Pushpa liked Saran who resembled her. Rashi barged in Nanavat's cabin and lashed out at him for giving admission to Pushpa. Rashi angrily confronted Ashutosh and threatened to leave school but it was all her dream. She came home and complained to her brothers about Pushpa getting admission in school. She was scared about the embarrassment she would face.
On the other hand, Pushpa thanked God for answering her prayers but people still judged her for getting admission at her age. She gave treat to Mahendar and Fer friend and shared the happy. Radha Kaku was proud of Pushpa and warned her to not get demotivated at any cost. Pushpa happily informed about her admission to Chirag and Ashwin who congratulated her.
She gave them head start that things would be completely different from the next day. She woke very early morning and completed all her cooking and household work and got ready to school. Ashwin and Chirag wished her good luck for her new venture so does everyone at Chawl. Rashi took holiday as she was scared to face the embarrassment.
In the future episodes we will witness, Pushpa will come to school and students will think that she's a teacher but another student will say that she's not teacher but Rashi's mother. Teacher will introduce her as the new student in their class shocking everyone. Another teacher will ask Pushpa to introduce herself and she will try to introduce herself but children will laugh at her broken English.
Will Pushpa complete her education? Will Rashi support her big decision? Will Pushpa's decision affect Ashwin's marriage with Deepti?
All these questions will be answered in the upcoming episodes.
.