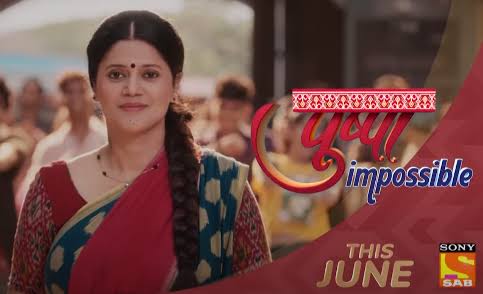 Pushpa Impossible Spoilers, Upcoming Story, Latest Gossip , Future Story, Latest News and Upcoming Twist on tellyexpress.com
Sab TV channel launched a brand new show titled Pushpa Impossible starring Karuna Pandey alongside Garima Parihar and Darshan Gurjar. The show currently focuses on Pushpa losing the case while Pramod framing Ashwin.
In the previous week we have witnessed, Sam and Parminder followed Rashi as she was on her way to meet Aryan. They called Pushpa and explained the situation to her. Pushpa got down with Ashwin to check on Rashi and sent only Deepti and Chirag.
Pramod made use of his connections and got his hand on Ashwin's file. Rashi came to Aryan and switched on the video camera for proof. Aryan asked her to come inside the house and apologize but Rashi refused as she don't trust Aryan.
A furious Aryan sent Rashi's picture to everyone. Deepti pleaded Judge to postpone the hearing date and Judge obliged. Pushpa, Chirag, Deepti and Ashwin also get the photo and they all got shocked. Aryan ran away seeing Ashwin while Pushpa confronted Rashi.
Rashi told all the truth to Pushpa who took her and Ashwin to school to get justice for Rashi. Pushpa took Rashi to school where everyone badmouthed. Pushpa encouraged Rashi to say the truth and Rashi told about Aryan harassing her and she going to party for warning him.
She showed his messages has proof as Aryan. She also showed the video when Aryan blackmailed her and Parminder, Sam and her friend proved witness. Pramod visited the school with Aryan but misses to see Ashwin and Deepti.
At first, Aryan denied the allegations on him but later on went to accept it. He got rusticated from school as punishment for his misbehaviour. Pramod while leaving saw Ashwin and got to know that he's Rashi's brother. Nanavati in meeting explained about whatever happened to Rashi and praised her brave act.
He also encouraged others to stand against criminals. Pushpa informed Sonal about Rashi's incident who also stood with her. Pushpa also thanked them for supporting Rashi knowing the truth. They all return home but Rashi is still gloomy.
Pushpa tried lifting up her mood but in vain. She sent snacks to them while Ashwin and Chirag apologized to her for not giving her enough courage to trust them to rely on them.
Pushpa's neighbours asked her why she didn't come to court while Bapodhara mocked Pushpa. On the other hand, Pushpa revealed to Kaku and others the reason for her not coming to court while they were glad that the court hearing got postponed.
Ashwin met with Pramod and got shocked to know that he was Aryan's father. Pramod demanded him to force Rashi to give statement in favour of Aryan in school but Ashwin refused to do any such thing. Pramod got angry at Ashwin and swore to avenge.
Prarthana and Chirag had a pep talk about Rashi and Prarthana asked Chirag to not blame himself for Rashi's decision. Rashi patched up with Pushpa and wanted to study and progress together with her. They spent some quality time.
Neck day, Pushpa left for court with Deepti while Ashwin visited the government officer with the project file. The government officer found hotel tickets and flight tickets in the file and believed that Ashwin tried bribing him.
He lashed out at Ashwin. On the other hand, Bapodhara's lawyer broke all the evidence Pushpa had against Bapodhara. Bapodhara's lawyer made Pushpa confess about all the rules she broke against Bapodhara by breaking his stool and lighting fire in Chawl.
He even made her own supporters give statement against her including Chirag. Aamir Bhai played the video where Bapodhara mentioned about the agreement and the Judge asked Bapodhara to submit the agreement papers.
Bapodhara's lawyer removed the main clause paper which mentioned about her business from the agreement copy and everyone got shocked when judge told that no such clause existed. Ashwin tried making the officer understand that he did go bribe him but the officer didn't listen to him and kept lashing out at him.
He comolsinedyto Ashwin's superior Mrs Roy and lashed out at her too. Roy assured to punish Ashwin. Ashwin came back to office and Pramod taunted him. Ashwin understood uther it's Pramod who did things against him and got angry.
Roy lashed out at Ashwin and decided to hold an enquiry on both him and his superior Deepti. Ashwin felt helpless. In court, Judge gave statement in favour of Bapodhara and ashed Pushpa to vacate the house.
Pushpa locked herself in her house and cried her heart out while Bapodhara rejoiced it. Pushpa came out with a brave face hiding her pain but Kaku understood her pain. Deepti tried speaking for Ashwin but in vain.
In the future episodes we will witness, Bapodhara will try to throw Pushpa out of the house but Pushpa will protest against him. A new lawyer will enter to help Pushpa fight against Bapodhara.
Will Pushpa vacate her house? Will Ashwin prove his innocence?
All these questions will be answered in the upcoming episodes.
Keep watching Pushpa Impossible from Monday to Friday at 9:30 pm only on Sab tv and anytime on Sony Liv app.