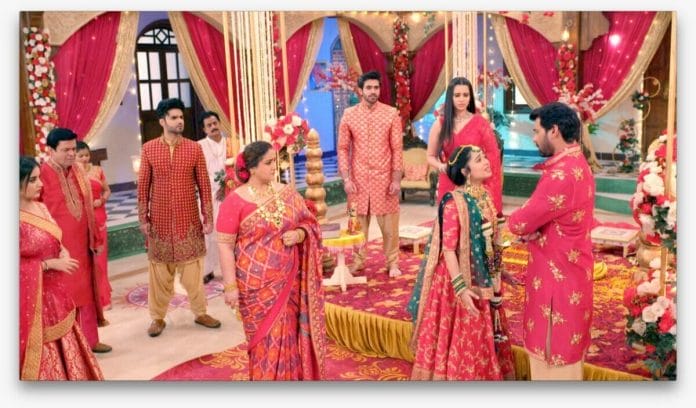 In the Monday episode of Prateek Sharma's "Pyaar Ka Pehla Naam: Radha Mohan", the audience will see that Kadambari scolds Damini and asks her why did she go out because she is the bride to which Damini replies that she doesn't want to get married anymore. Kadambari asks her the reason and she tells her that it's because nobody wants her to get married, and nobody trusts her then why should she get married.
Kadambari asks her what's wrong and Damini tells the whole story about how Mohan tried to play her. Mohan then asks her what about the wrong medicine, to which she tells him that she is not aware of it, as Ketki is the one who called the doctor.
The doctor comes there and apologises to Mohan and plays the victim by telling him about his daughter. He insists on not filing any complaints. Damini lets him go, but Mohan gets angry and asks her why she let the doctor go as the medicines would have harmed Radha. Damini is angry and asks him Radha is the only one that matters to him now.
She tells him that she is leaving. Kadambari tells her that she and Mohan are going to get married but Damini replies that she will die but never marry Mohan and whatever happens next will be on her and her son. Damini goes inside.
Then Kadambari asks her what is wrong to which Radha tells her that she will tell her the whole story, but Kadambari shuts her up saying you're the biggest problem here.
Meanwhile, Damini screams mumma, and everyone comes around her. Kaveri is badly injured and when everyone asks her about what happened she tells them Radha was trying to escape and when she tried to stop her she hit her. Radha tells them that she is lying, but Kaveri twists her words and makes Radha confess that she pushed her.
However, it was all fake blood, and Damini and Kaveri were only trying to gain sympathy. So when Mohan tells them that he will call the doctor Damini tells him that she doesn't need his help.
Damini and Kaveri are about to leave and Mohan tries to stop them but Radha tells him that he should let them go. She tells him that if Damini and Kavery leave it will only be good for the house and Gungun. Kadambari tells her that she knows what is right for her granddaughter. She hands over the court papers to Mohan.
A shocked Mohan asks Damini to stay. He tells Radha that it's his daughter who is at stake. Damini asks him if he is marrying her only for Gungun. Gungun hears it and tells her that after she leaves she will get Radha and Mohan married. Mohan scolds Gungun, and tells Damini that he will marry her and give her all the rights of a wife.
Gungun tries to intervene to which Mohan asks them to keep quiet as they all tried to prove that Damini is wrong, but they couldn't and now he will marry her.
He requests Damini to stay and marry him. Keep watching "Pyar Ka Pehla Naam: Radha Mohan" to know what happens next.
"Pyar Ka Pehla Naam: Radha Mohan" produced by Prateek Sharma's Studio LSD features Shabir Ahluwalia, Neeharika Roy, Keerti Nagpure, Reeza Choudhary, Sambhabana Mohanty, Swati Shah, Manisha Purohit, Brij Kishore Tiwari, Kajal Khanchandani, Rajendra Lodhia, Pooja Kava, Sumit Aroraa, and Ranveer Singh Malik. It airs on Zee TV.