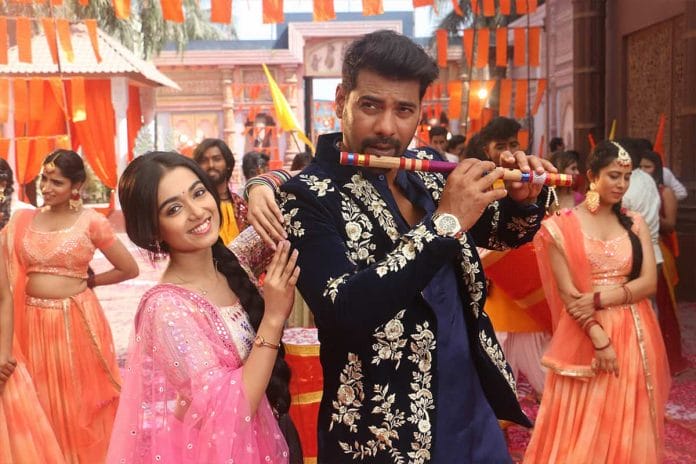 Pyar Ka Pehla Naam Radha Mohan 11th January 2023 Written Update on TellyExpress.com
Episode begins with Tulsi's spirit tells Radha that Mohan will be angry at her after marriage. Radha tells her that she know about Mohan's anger. Tulsi's spirit tells her that the latter never witnessed Mohan's anger. She says that Mohan becomes another person in anger. She adds that Mohan will show hell to Radha. She believes that one day Mohan will love Radha if Radha crossed this difficult path then. She asks Radha that if the latter is ready to marry Mohan. Radha tells her that she can do anything for Mohan and Gungun's happiness. She says that she is ready to marry Mohan. Tulsi's spirit hugs her in happiness. Radha asks her that what are they going to do. Tulsi's spirit tells her that the latter has to do everything.
On the other hand, Rameshwar tells Dadi that Radha is missing. Dadi tells him that Radha left for Mohan's house for sure. Meanwhile, Radha calls Ketki and asks her to send the photo which the latter took during her and Mohan's marriage. Ketki sends the photo to Radha. Gungun searches her phone.
Radha calls Kadambari and asks her to let her enter the house because she did nothing wrong by loving Mohan. Kadambari tells her that Mohan is getting married to Damini so the latter don't have any place in Trivedi house. Radha records the call. She calls Damini and asks her to not snatch Mohan from her. Damini thinks that Tulsi's spirit did not meet Radha yet. She tells Radha that Mohan belonged to her since beginning. Radha tells her that she took pheres with Mohan and he is her husband. Damini tells her to die and or live with those memories but don't call her again and disconnects the call.
Radha calls Mohan and tells him that she is not understanding that how can he break their relationship this easily. Mohan tells her that he is going to get married to Damini. She tells him that she should be in his heart. He tells her that they don't have any relationship now and disconnects the call.
Damini ties raksha kavach on the main door so Tulsi's spirit can't enter the house again. She hires few people to stop Radha from entering Trivedi house. Gungun pleads God to make Radha her mother.
Tulsi's spirit gives her bridal outfit to Radha. She helps Radha to get ready as bride. She says that Mohan's bride and Gungun's mother is ready. Mohan gets ready as groom. He thinks that he ended his relationship with Tulsi and Radha to marry Damini. Damini gets ready as bride and says that now no one can stop this marriage.
Radha tells Damini that she know it's difficult for Tulsi. Tulsi's spirit tells her that she choosed her seeing her love for Mohan and Gungun. She says that Mohan and Gungun are Radha's responsibility from today. Radha makes Tulsi as her elder sister and hugs her.
Episode ends.
Also See: