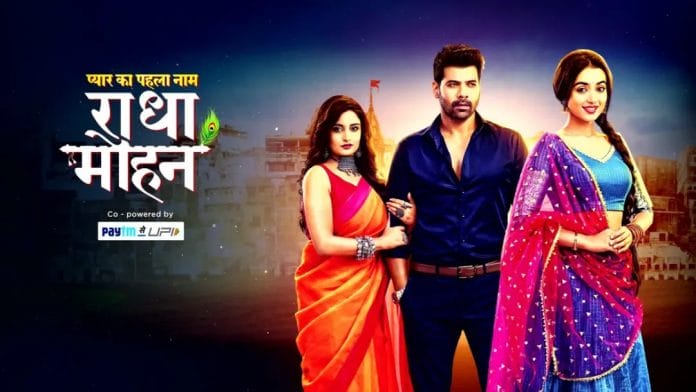 Pyar Ka Pehla Naam Radha Mohan 12th November 2023 Written Update on TellyExpress.com
Episode begins with Gungun collides with Bunty in the airport. She gets shocked seeing him. She asks him that do he also going to America with them. Bunty tells her that he is not Bunty and leaves from there. Radha and Mohan comes there. Gungun tells them that she saw Bunty. Radha tells Gungun that Bunty must be in the village. Mohan says that Gungun become fond of Bunty that's why she played with Bunty yesterday.
Kadambari tells them that security check is pending and takes them from there. Gungun tells Radha that she did not play with Bunty. Radha hears flight number. She recalls that how she saw that number in Bunty's chit. She tells everything to Gungun. Bunty hears this. He thinks that everything will be ruined if Radha don't sit in the flight then. Radha recalls all the recent incidents related to Bunty. Mohan tells Radha to check her bag because boarding started. Terrorists sees the bag.
Ajeet tries to romance with Ketki. Ketki tells him that he can't do this because she is pregnant. They hears a noise. Vishwanath comes there and asks them that if they heard a noise. Ajeet says that noise is coming from upstairs room but no one stays there. He asks if ghost lives there. Tulsi hears everything and wonders who is in that room. She goes to that room and sees Rahul and Dulari. She wonders who did this with them. She calls Ketki and Ajeet.
Ajeet tells Vishwanath to enter the room because he is scared. Vishwanath also refuses to enter the room in fear. They leaves from there. Tulsi tells them to not go. She thinks that she has to do something. She unties Dulari. Dulari gets scared and unties Rahul. She tells him that there is a ghost. Rahul refuses to believe her. He screams for help. Dulari also screams. Ajeet, Ketki and Vishwanath hears Rahul and Dulari's voice. They opens the door.
In the airport, Security officer stops Radha and tells her to open the bag. Radha opens the bag and shows Lord Krishna's idol. He tells her that she can't take this in the flight. She asks him to not say like this. He tells her that she is not allowed to take this in the flight. Priest convinces security officer to allow Radha to take Lord Krishna's idol in the flight. Trivedis tells thanks to Security officer. Terrorists gets relieved. Bunty says that like Mr. X said Radha is perfect choice for their mission.
Trivedis sits in the flight. They learns that, that old man is taking his wife to America for treatment. Terrorists sits in the flight. Gungun tells Radha that she is excited. Bunty thinks that passengers can't even imagine what's going to happen with them.
Episode ends.
Also See: