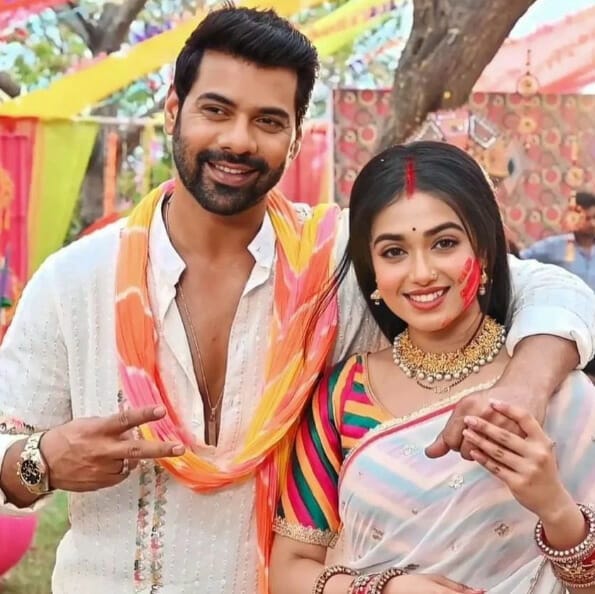 Pyar Ka Pehla Naam Radha Mohan 13th November 2023 Written Update on TellyExpress.com
Episode begins with Radha asks Mohan to help her to tie the seat belt. Mohan tells her that he taught her when they went to Maldives. She tells him that she forgot. They argues that who is old.
On the other hand, Ajeet asks Dulari that what happened. Dulari tells him everything about terrorists and their plan. Rahul says that those terrorists are dangerous people so they have to stop Mohan and others from boarding the flight. Vishwanath tells Rahul to call Mohan. Rahul calls Mohan.
Mohan assumes that Rahul is calling to apologize. Air Hostess tells him to switch off the phone. Rahul calls Radha. Radha looks at Air Hostess and she switch off the phone. Rahul calls Kadambari and the latter also switch off the phone. Radha chants mantra. She tells Gungun to chant mantras. Priest gets impressed hearing this. Radha tells Mohan that she will talk to her family after reaching America.
Meanwhile, Ketki says that her family is in the flight and asks what if bomb blasts. She gets panicked and struggles to breathe. Ajeet asks her to not take stress. Vishwanath tells Rahul to call the Doctor. Rahul calls the Doctor.
In the flight, Kadambari tells pregnant lady that it's not good to travel in full term pregnancy. Pregnant lady tells her that she is in her 5th month. Kadambari tells her that the latter looks like 9th month pregnant lady. Pregnant lady tells her that she is healthy that's why. Radha tries to say something to pregnant lady but Mohan stops the former. Mohan tells Radha that few people goes to America to give birth to a child to get US citizenship. Radha tells him that that's wrong. Pregnant lady tells herself that she and her child won't return to India. Mohan and Radha hears this. Bunty tells his accomplice that Gungun should not see him before he completes the mission.
Doctor examines Ketki. Rahul tells Vishwanath to call the Police. Vishwanath calls Police inspector and tells him about bomb. Police inspector refuses to believe him. He says that it's criminal offence to spread these kind of rumor and disconnects the call. Vishwanath tells his family that Police inspector is not believing him.
Priest tells Air Hostess that he want to change his seat. Air Hostess tells him that economy class is full but there is a seat in business class. One kid asks water from her mother. Mother calls Air Hostess for water.
Mohan sees a couple romancing. He shows that to Radha. He tells her that they are example of romantic couple. He asks her to learn something from them. He holds her hand. Radha scolds him. He gets irritated and tells her that he is going for walking. He sees retired commando and talks to him. Terrorist who works in the flight tries to take the gun. Mohan comes there.
Episode ends.
Also See: