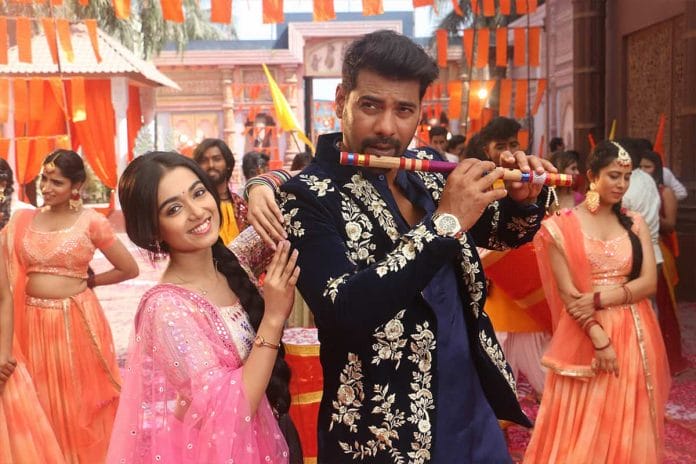 Pyar Ka Pehla Naam Radha Mohan 15th November 2022 Written Update on TellyExpress.com
Episode begins with Maha Pandit ji tells Kadambari that she is the reason for Mohan's condition. Damini says that she called Maha Pandit ji to pray for Mohan. She asks Maha Pandit ji why he is blaming Kadambari. Maha Pandit ji says that Mohan's life in danger due to Kadambari's carelessness. On the other hand, Ketki calls Ajeet and learns that Mohan is in critical condition. She informs Rahul about open brain surgery. She says that they can't tell about it to Gungun. Tulsi's spirit hears everything.
Maha Pandit ji says that Kadambari is step mother of Mohan still she is a mother. He asks her that how can she put Mohan's life in danger. Radha tells him that Kadambari did nothing wrong and Kadambari love Mohan so much. Maha Pandit ji says that he already told Kadambari that Mohan's time is not well so he should get married as soon as possible. Kadambari tells him that they cancelled the marriage for few reasons. He says that everything started from May 2.
He tells about the accidents Mohan faced due to his bad time. He says that Mohan need a life partner to fight for his life or else Mohan will die. She apologizes to him and cries. Radha tells her that God will make everything fine. She goes to bring water. Kadambari asks Damini that if the evil shadow is Tulsi's spirit. Damini tells her that Tulsi's spirit is with them for many years. Kadambari wonders that Maha Pandit ji talking about which evil shadow. Radha gives water to Kadambari. She asks her to not think about Maha Pandit ji's words. She says that she will stand in one leg until Mohan becomes fine. Damini slaps Radha. Kadambari and Vishwanath scolds her.
Damini says that Kadambari should support her today for Mohan. She says that Kadambari should stop trusting Radha. She adds that Radha keep doing mistakes but Kadambari is not able to see anything. She says that she understood everything. Vishwanath asks her that what is she trying to say. Shekhar asks Damini that why she slapped Radha. Damini says that finally she saw Radha's reality. Ajeet asks her that what Radha did. He says that Radha supported them always. He adds that Radha even saved their family members life. Kaveri thinks that Damini did mistake by slapping Radha.
Damini says that seems like they did not hear Maha Pandit ji words clearly. She says that evil shadow entered in Mohan's life on 2nd May according to Maha Pandit ji. She reminds them that Radha entered their house on 2nd May so Radha is danger for Mohan. She says that Mohan facing accidents from that day. She adds that kidnappers came to kidnap Radha but Mohan got injured. She says that Mohan and Rahul's fight happened due to Radha. She reminds them that Radha slept in carpet but she and Mohan got injured that day. She says that now Mohan fighting for his life due to Radha.
Episode ends.
Also See: