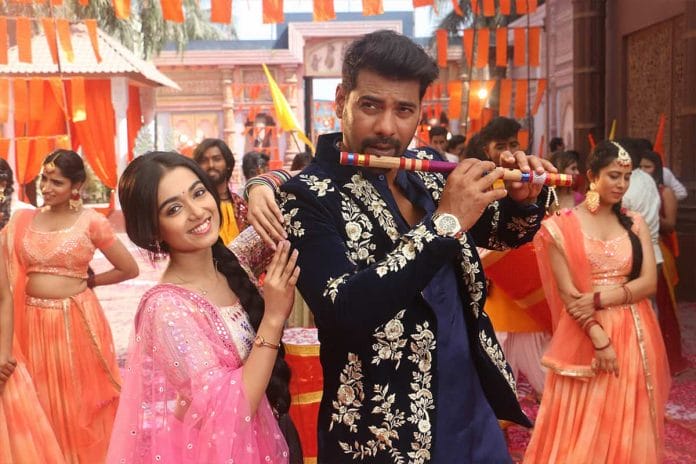 Pyar Ka Pehla Naam Radha Mohan 16th January 2023 2022 Written Update on TellyExpress.com
Episode begins with Mohan asks Radha that if she has any proof to prove her claims. Radha tells him that she has proof which shocks everyone. He tells her that she really become mad. She shows the photo which Ketki clicked. Ketki recalls that how Radha asked her to sent that photo to her. Radha tells Mohan that he can deny their relationship but not this proof. She shows the photo to Police inspector too. Mohan says that there is no truth in that photo.
Damini tells Police inspector that Radha tried to marry Mohan by deceiving him. She says that everything is Radha's plan to get Mohan. She informs her that Radha's love is one side so she become mad. Radha tells Police inspector that this is how they blames her. She asks her that how can she do planning if she is mad then. She informs her that Ketki sent the photo to her. She says that wrong is happening with her and she want justice.
Ketki tells her that she did not sent the photo for this. Radha tells her that the latter only supports her always. She hugs her and apologizes to her saying that she don't have any other choice. Ketki pushes her and scolds her for betraying her. She tells Police inspector that Radha is lying. Radha tells Police inspector that Ketki is afraid of Mohan. She plays the recording of her and Ketki's conversation. She says that Ketki only supported her love. Ketki tells Police inspector that Mohan did not marry Radha. Damini thanks her for telling the truth.
Radha tells Police inspector that Kaveri and Damini are responsible for all the problems. She asks Ketki to tell the truth to Police inspector for her sake. Ketki asks her to shut up and stop lying. She tells her that she thought the latter is good person but she was wrong. She says that she went against Mohan and Kadambari for Radha but Radha used her. She scolds her for taking advantage of her goodness. Radha asks her to not get scared because she will support her. Tulsi's spirit tells her that Ketki also want the latter and Mohan's marriage to happen.
Rahul tells Ketki that he already warned her about Radha but the latter did not listen him. He says that no one believed him when he said about Radha's motive and now it's in front of everyone. Tulsi's spirit asks Radha to not remain silent and speak.
Police inspector asks Mohan that if he is still claiming that Radha is not his wife. Mohan tells her that Radha is lying. Kadambari asks Police inspector to not trust that photo. Women Welfare Organization ladies comes there and claims that Radha called them. Radha thanks them for coming. She asks them to help her to get justice. She tells them about Mohan and Damini's marriage. She says that she is not understanding what she has to do in this situation and cries. They tells her that she is not alone in this fight and they won't let this marriage happen.
Episode ends.