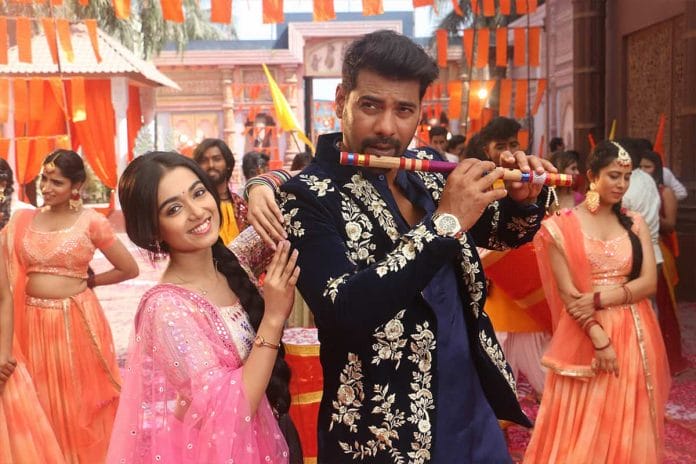 Pyar Ka Pehla Naam Radha Mohan 1st November 2022 Written Update on TellyExpress.com
Episode begins with Ajeet spots the school bus and he shows it to Mohan. Mohan drives his jeep fastly. Meanwhile, Radha motivates students by telling Lord Krishna's story to them. She says that Lord Krishna won all the time because he trusted in himself. She says that they are in trouble so they should trust themselves to get rid of the problem. On the other hand, teacher says that duplicate peon Pratap gave poisoned laddu to her. She says that she could not go with students because of that. Tulsi's spirit says that Pratap planned everything. She wonders that why he did all that.
One of the parent says that Pratap has enmity with Trivedi family so he did all that to take revenge on them. Kadambari gets shocked hearing him. Police inspector says that parent is right. He says that his team draw Pratap's picture with real peon's help and it's confirmed that Pratap is the one who kidnapped Radha in the past. Damini gets shocked hearing him. She scolds Pratap in her mind for talking about his plan to real peon.
Parents asks Trivedi family to return their children safely. They asks that why they should suffer because of Trivedi family. Kadambari asks them to calm down. She tells them that their threat won't save anyone. She reminds them that her family members are also in that bus. She informs them that Mohan went to save them. One of the parent says that this problem started due to Trivedi family. Parents says that they want answers.
Radha asks students to trust themselves and Lord Krishna. Gungun asks students to stop crying saying that Lord Krishna will save them. One of the student feels that she is a bad person that's why Lord Krishna punishing her. Gungun consoles her. Radha tells Lord Krishna that students trusting him so he should not break their trust.
Pratap informs Damini that Mohan following the bus so anything can happen to Mohan. Damini gets worried about Mohan. She calls Mohan and asks him that where is he now. Mohan tells her that he followed the wrong bus and disconnects the call. Ajeet tells him that they are following the correct bus. Mohan tells him that he don't want to put others life in danger by telling the truth. Ajeet tells him that bus speed is so high. Mohan tells him that Pratap must be threatening the driver.
Shekhar comes to Trivedi house. He asks parents to calm down. Damini thinks that Pratap would have left the city now. Mohan says that something is fishy. He tries to overtake the bus. Radha gives water to driver. She asks him to be careful because this students are his responsibility.
Parents asks Police inspector to give Trivedi family members to Pratap and rescue their children. Police inspector scolds them. He takes Shekhar aside. Driver feels dizzy. Ketki gives chocolate to him. Radha asks Lord Krishna to help them. She asks driver to drive carefully. Driver asks Lord Krishna to help him and he faints. Everyone gets shocked seeing that.
Episode ends.
Also See: