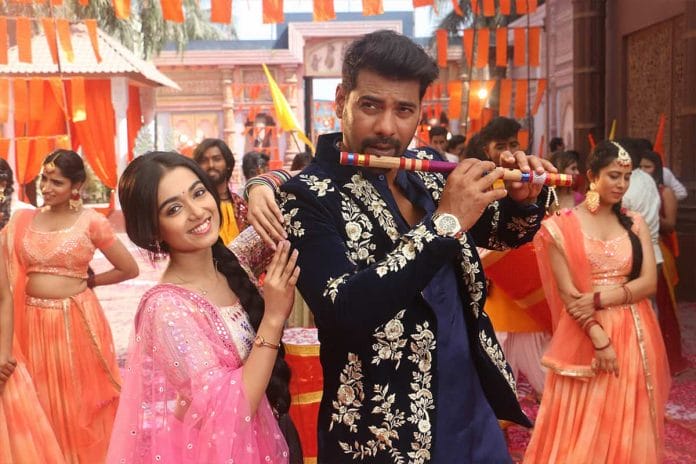 Pyar Ka Pehla Naam Radha Mohan 21st December 2022 Written Update on TellyExpress.com
Episode begins with Radha's veil gets removed which shocks Tulsi's spirit. Mohan turns around. Tulsi's spirit turns Radha's face so Mohan can't see Radha's face. She notices that no one is seeing and she puts veil to hide Radha's face. On the other hand, Damini regains her consciousness and she screams for help. Mohan asks Gungun that where is Radha. He says that he will bring Radha. Gungun tells him that Radha won't come and Radha sent her friend Krishna. Kadambari tells Mohan that she scolded Radha so Radha won't come.
She asks him to begin the marriage rituals. She thanks Gungun. She says that now everything looks complete. Kaveri wonders that how Gungun changed. She decides to do her work because everyone is busy now and leaves from there. Tulsi's spirit makes Radha sit near Mohan. Gungun wonders that if Radha regained her consciousness or God helping her. Mohan feels Radha's presence. He tells Shekhar that he feel like Radha is around him. Shekhar tells him that Damini will be with him from now on.
Meanwhile, Damini tries to open the suitcase. Kaveri comes there and zips the suitcase. She beat Damini assuming her as Radha. Damini loses her consciousness again. Kaveri notices that voice is not coming. She thinks that she has to go downstairs to attend the marriage. She takes the suitcase from there. She tells herself that she will attend the marriage after handling Radha. Tulsi's spirit sees Kaveri taking the suitcase out of the house. She says that Mohan and Radha's marriage will get completed before Damini returns.
Kadambari notices that Kaveri is missing. Gungun says that she will do Kaveri's part. She keeps Radha's hand on Mohan's hand. Mohan recalls the moments when he held Radha's hand and he stares Radha ( Title song plays in the background ). Tulsi's spirit recalls that how she got married to Mohan and smiles. She says that she is happy today because she know Mohan won't get a better life partner than Radha. And Gungun won't get a better mother than Radha.
On the other hand, Kaveri gives the suitcase to kabadi wala. He struggles to pick the suitcase. She tells him that she don't want money. He gets happy hearing her and leaves from there with suitcase. Priest asks Mohan and Damini to stand for pheres. Tulsi's spirit makes Radha stand. Damini regains her consciousness. Kabadi wala notices that suitcase is moving and he gets scared.
Kaveri lies to Kadambari that she went to bathroom. She says that she want to take selfies. She is about to remove Damini's veil. Gungun tells Priest that they can't miss this muhurat time. Priest says that they can click photos later. He asks Mohan and Damini to exchange the marriage garlands. Mohan recalls that how he and Tulsi exchanged the marriage garlands. He puts the marriage garland around Radha's neck.
Episode ends.
Also See: