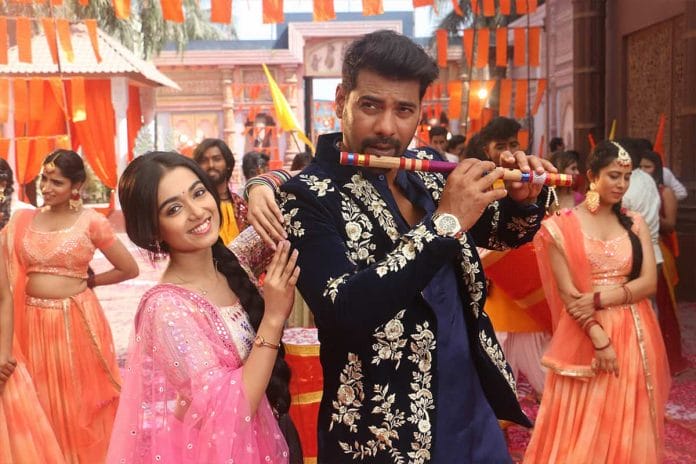 Pyar Ka Pehla Naam Radha Mohan 21st November 2022 Written Update on TellyExpress.com
Episode begins with Doctor leaves the cabin to get syringe. Kadambari asks them that what are they doing in Mohan's room. Damini notices that Pratap hided in the room. She tells Kadambari that Doctor was examining Mohan. Kadambari tells her that Maha Pandit ji prepared everything for the marriage. Doctor notices movement in Mohan. He thinks that Mohan can wake up anytime. Wardboy brings wheelchair. Ajeet helps Wardboy to make Mohan sit on the wheelchair. Kadambari asks Damini that why the latter is looking tensed. Damini tells her that she is worried about Mohan but she know he will be fine. Kadambari and Ajeet takes Mohan from there. Damini asks Doctor to inject Mohan when he gets a chance.
On the other hand, two wardboys opens the postmortem room. Radha hides hearing their voice. Wardboys takes one dead body from there. But Radha hides in that stretcher. Meanwhile, Gungun tells Ketki that Damini is not a good person so she has to stop the marriage no matter what. She says that if this marriage happened then Damini will send her away from them. Ketki tells her that they have to do something. She says that taxi may come anytime and goes inside. Rahul overhears their conversation.
Wardboy notices that Mohan is moving his hand. He tries to tell about it to Kadambari but Damini stops him. Rahul calls Damini and tells her that Ketki and Gungun coming to the hospital to stop the marriage. Damini tells him to stop Gungun at any cost. She asks him to execute his plan outside the house if he failed inside the house then. Tulsi's spirit says that she won't let Rahul stop Gungun.
Radha's stretcher gets stuck with Mohan's wheelchair. Radha's hand gets rubbed with Mohan's hand ( Title song plays in the background ). Damini scolds Wardboys for bringing dead body that way. Kadambari asks her to calm down. Radha thinks that she has to save Mohan and she can't let Damini marry Mohan forcefully.
In the house, Rahul tells Ketki to go inside. Ketki tells him that she is going to the hospital and he can't stop her. He holds her hand to stop her. Tulsi's spirit asks him to leave Ketki's hand. Ketki fights with Rahul. Gungun asks Rahul to leave Ketki's hand. Tulsi's spirit slaps Rahul. Rahul misunderstands that Ketki slapped him. He asks her that how can she slap him. Tulsi's spirit tells him that she slapped him and she won't hesitate to break the promise for Mohan's sake.
Damini notices that Mohan is moving his fingers. She asks Kadambari about puja ingredients. Kadambari asks her to not worry about anything because Ajeet will arrange everything. Wardboys takes stretcher from there. Damini notices Radha's hand and she takes Radha's name.
Episode ends.
Also See: