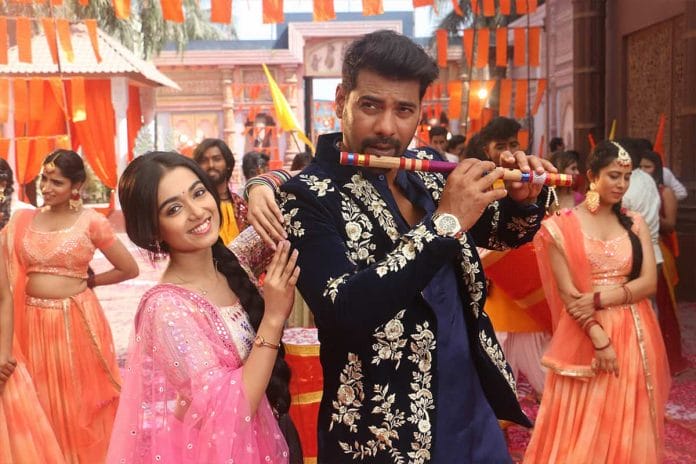 Pyar Ka Pehla Naam Radha Mohan 21st September 2022 Written Update on TellyExpress.com
Episode begins with Mohan tells himself that he will find out that why Radha lied to him. Damini tells Kaveri that Mohan will open the door for Radha soon. She says that she can't let that happen. Gungun gives biscuits to Radha. She asks her to eat it. But Radha refuses to eat. Gungun reminds her that how the latter gave food to her when she was inside the borehole. She says that she will jump like her. Radha asks her to not jump. She takes the biscuits. She tells her that the latter should not lie to Mohan. Gungun tells her that she did not lie. She says that she is just hiding the truth like how Radha hiding from Mohan that she loves him. She asks her to confess her feelings to Mohan and become her mother. Radha gets shocked hearing her. Damini and Kaveri overhears their conversation. Damini tries to push Gungun from upstairs but Kaveri drags her from there. Kaveri reminds her about Tulsi's spirit.
Sundari calls Radha and tells her to tell the truth to Mohan. Radha tells her that she can't break the family by revealing the truth. Sundari asks her that what's the latter's plan. Radha tells her that she won't return until she finds out Hriday's accomplice. She says that she will tolerate everything but she won't leave. Damini taunts her for returning. She asks her to tell Mohan that the latter love him. Mohan comes there and asks Damini that what is she doing there. He notices the snacks which Gungun gave Radha. He praises Gungun in his mind. He asks Radha that why she lied to him. Radha tells him that she can't tell him. He tells her that she can't enter the house if she can't tell the truth then. He goes inside.
Radha recalls Damini's words. She gives a befitting reply to Damini. She tells her that the latter don't know anything about her. She says that Damini can't understand her love. Damini scolds her and goes inside. She calls a guy and asks him to kill Radha.
Later, Mohan pours a bucket of water on Radha. Radha asks him that what is he doing. He asks her to leave from there. She tells him that she won't go. Gungun tells Mohan that he did wrong. She goes downstairs and hugs Radha. Damini tells Gungun that it's night time, so everyone need to sleep. Gungun says that she will stay outside with Radha. Mohan picks her and goes inside.
After some time, goons reaches Mohan's house. Damini sees them. She calls a goon and asks him to kill Radha somewhere else. Radha sees goons. She asks them that who are they. She notices a knife. Mohan learns that Gungun refused to eat. Radha is about to scream but goon closes her mouth. They drags her from there. Mohan moves towards the door to bring Radha inside the house.
Episode ends.
Also See: