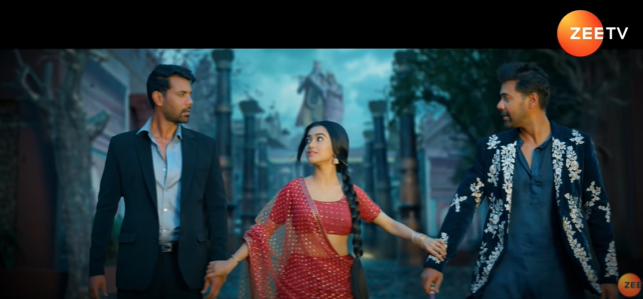 Pyar Ka Pehla Naam Radha Mohan 22nd June 2022 Written Update on TellyExpress.com
Episode begins with Mohan says that he will find out that who is behind the trap. Kadambari asks him that who will do something like this. He tells her that that person don't want Radha to stay in their house. He asks Radha that who gave that garbage bag to her. Radha recalls that how Damini gave the garbage bag to her. She points at Security guard Damru saying that he gave it to her. Mohan questions Damru. Kaveri and Damini gets worried. Damru tells Mohan that he gave garbage bag to Radha but he did nothing else. Mohan asks him that who told him to give that garbage bag to Radha. Damru remains silent.
Damini slaps Damru and scolds him. She murmurs to him to take the blame and she will give money to him. Radha asks Damini to not hit Damru but just learn the truth. Damru apologizes to Mohan. He says that he stole all those things. Kaveri and Damini gets relieved hearing him. Mohan tells Damru that everyone accused Radha because of the latter. He beat him up. Tulsi's spirit says that Mohan punishing the wrong person. Radha and Kadambari asks Mohan to not beat Damru up.
Mohan beat Rahul up. He warns him to not touch a girl again. He says they found the theif so they should call the Police. Damru gets shocked hearing him and looks at Damini. Damini thinks that Damru may confess the truth in fear. She tells Mohan that they need not to call the Police but just fire Damru from the job. Mohan says that Damru will be punished for sure.
Radha asks him to forgive Damru and give one last chance to him. He tells her that she is stupid that's why she is trusting everyone and keep giving chances to them. She pleads him to leave Damru. He asks Damru to leave and not come in front of him again. Damru leaves from there. Mohan says that drama is over so everyone can go inside.
Radha asks Gungun to return the God's idol. She says that she can't stay in this house so she will return to her village. Mohan tells her to not act like stupid. She tells him that she is stupid but not theif. She says that everyone accused her. She adds that even Mohan did not trust her and witnessed her insult. Vishwanath apologizes to her. She tells him that it's about trust not apology. Kadambari also apologizes to Radha.
Gungun asks Radha to come inside. Radha hugs her. She says that only Gungun trusted her and supported her today. She asks her to return God's idol. Gungun tells her that she won't give her and runs inside the house. Mohan collects Radha's stuff and stolen things. Damini thinks that Mohan took Tulsi's vermilion box too. Mohan takes Radha inside the house. He enters the house with bag so Tulsi's spirit also enters the house.
Episode ends.
Also See: