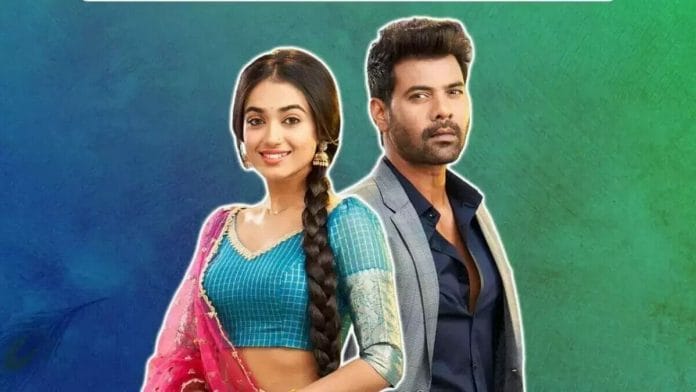 Pyar Ka Pehla Naam Radha Mohan 23rd January 2023 2022 Written Update on TellyExpress.com
Episode begins with Mohan throws Radha out of the house. Radha asks him to open the door and listen her once. Gungun tells Mohan that he is doing wrong. Mohan scolds her and goes inside. Gungun tries to open the door but fails. She pleads everyone to open the door. But they refuses and goes inside. Kaveri tells Damini that Mohan will bring Radha inside the house in the future for sure. She says that they should leave the house before Radha throws them out of the house. Damini tells her that this marriage will be the destruction of Radha. She asks her to follow her instructions.
Meanwhile, Radha cries recalling Mohan's words. She says that she came to this house for Mohan's happiness but she snatched his happiness. She tells Tulsi's spirit that she made huge mistake. Tulsi's spirit tells Radha to give sometime to Mohan and he will understand her one day. Radha asks Tulsi's spirit that where is the latter. She recalls Tulsi's spirit last words and realises that she can't see Tulsi's spirit and talk to her because she is Mohan's wife now. She wonders that how she will fight alone and cries. Tulsi's spirit tells her that she is with her always.
Gungun opens the window and she tells Radha that she is with her. Radha asks her to not do anything which will hurt Mohan. Gungun tells her that she won't leave her mother so she will do something. She takes the stool and opens the door by climbing on the stool. She tells Radha that she know the latter is sad that post marriage rituals did not happen. She says that she have seen everything in TV serials. She welcomes her by performing graha pravesh ritual. Radha gets emotional and enters the house.
Mohan thinks that he won't let Radha use Gungun. Tulsi's spirit says that first time a daughter is performing her mother's graha pravesh ritual. Radha is about to fall but Gungun holds her. She tells her that she could took this huge decision because of her and hugs her. She thinks that she know she did wrong with Mohan but she did not had any other choice.
Mohan comes there and tells Radha to leave the house. Gungun tells him that her mother won't go anywhere. He tells her that Radha is not her mother. She tells him that she will leave the house with Radha. He reminds her that she promised to not leave the house. She tells him that she won't live in this house if Radha can't live in this house then. Radha tells Mohan that they got married for Gungun's sake and they have to go to court tomorrow.
Kaveri asks Damini to not do like that. Damini tells her that she waited a lot for Mohan and now she has no reason to live. Everyone gathers in the hall. Mohan asks Damini to throw the knife. But Damini cut her wrist.
Episode ends.
Also See: