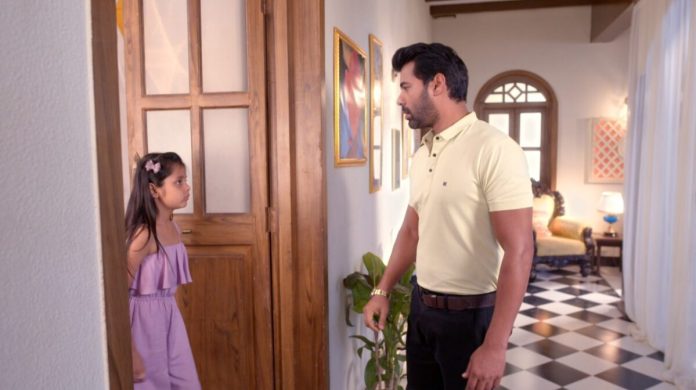 Pyar Ka Pehla Naam Radha Mohan 24th June 2022 Written Update on TellyExpress.com
Episode begins with Mohan feeds Radha. He coughs so Radha gives water to him ( Title song plays in the background ). Tulsi's spirit smiles seeing that. She says that Radha and Mohan broke each other's fast. She wonders that it's a coincidence or God signalling something. On the other hand, Mohini recalls that how Guru maa told her to complete the fast at any cost. Kaveri opens the door and gets shocked seeing Gungun. She politely asks her that if the latter wants anything.
Gungun tells her that she wants revenge. She recalls that how Kaveri beat her up. She throws water ballons at Kaveri and Damini and leaves from there. Damini tells Kaveri that this is just a beginning and Tulsi won't leave them. She says that Tulsi's spirit did not let her complete her fast. She adds that she can't win against Tulsi's spirit no matter what. Kaveri asks her to stop talking nonsense.
Damini tells her that she did everything but she failed always. She adds that this marriage won't happen. Kaveri asks her to come to sense. Damini says that Priest was right that she can't become Mohan's wife. Kaveri tells her that this marriage is her dream and the goal of her life. She says that destiny supported Kadambari always so she decided to make sure that Damini rules this house. She adds that they can't back off now. Damini tells her that Radha getting close to Mohan. Kaveri tells her that no one can stop this marriage. Damini nods at her.
Tulsi's spirit says that she will protect her vermilion until she finds a good mother for Gungun and good life partner for Mohan. Meanwhile, Mohan waits to teach English to Radha. He goes to Gungun's room. He asks Radha that why she did not come to study English. She tells him that she was not feeling well. He tells her that she is lying. She tells him that she is a liar and theif as well. She adds that she can't study today. She is about to close the door but he stops her. He tells her that she is behaving this way with him only when it's not like he only made mistake. He asks her that why she did not said anything to Damini when Damini slapped her. She tells him that she expected support from him only.
He asks her that what he has to do to convince her. She tells him that she want to sleep even though she is not sleepy at all. She closes the door and cries seeing her palm. Tulsi's spirit tells Radha that she can understand that what the latter going through now. She adds that Mohan is not bad and he is changing now. Mohan asks Radha to open the door and talk to him.
Vishwanath scolds Kadambari for accusing Radha. Mohan comes there and tells Vishwanath that the latter don't have any rights to yell at Kadambari. He says that once he lost his mother because of Vishwanath but he won't let that happen again. He warns him. Vishwanath leaves from there.
Kadambari tells Mohan that she made mistake so Vishwanath is not wrong. He tells her that Radha did not get a chance to tell about Damru because of Damini. He adds that it looked like Damini wanted to prove Radha as theif. He wonders that what exactly Damini wants from Radha because Damini behaves weird.
Episode ends.
Also See: