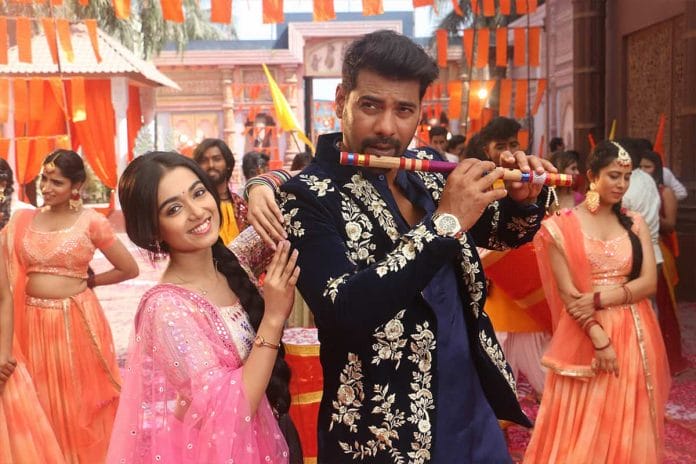 Pyar Ka Pehla Naam Radha Mohan 24th November 2022 Written Update on TellyExpress.com
Episode begins with Doctor tells Vishwanath that Mohan is in critical condition and even if they saved Mohan, he may lose his talking ability. He says that poison affected Mohan's whole body and they will try their best to save Mohan. He asks him to sign on the consent form because they don't have much time. Vishwanath says that he can't sign on this form. He says that Kadambari took all the decisions in Mohan's life so he is giving this responsibility to her. Kadambari cries saying that she can't do this. Kaveri consoles her.
Radha asks Kadambari to sign on the form because God will save Mohan for sure. Kadambari signs on the form. Radha says that she know how to save Mohan. Damini asks her to not try to take advantage of the situation. Radha tells her that only the latter can talk like this. She says that she don't have time to fight with her. Damini tells her that the latter is talking a lot nowadays. Radha tells her that the latter can't stop her from helping Mohan. She pushes her and leaves the hospital.
Radha steals a scooty and leaves from there. Scotty owner runs behind her. Meanwhile, Damini tells Doctor that she won't spare him if anything happened to Mohan then. Doctor tells her that she forced him to use that medicine. He says that Mohan would have died if full dose went into Mohan's body then. She threatens him to save Mohan. Kaveri asks her to calm down.
Gungun asks Ketki that what they will do if Mohan and Damini's marriage happened already then. Ketki tells her that God will help them to get out of the house. They hears horn sound and goes to balcony. Radha comes there. Rahul stops her. She notices that the door has been locked from outside. She asks him to open the door because she has to take Gungun to the hospital. She says that Mohan is in critical condition and only Gungun can save Mohan now. Everyone gets shocked hearing her. Rahul refuses to open the door.
Radha pushes Rahul and tries to break the lock. Rahul drags her and he blames her for Mohan's condition. He says that he will get revenge for his insult and no one can stop him. She tells him that she can save herself. She bites his hand and goes to the door. He drags her and slaps her. She takes axe and threatens to attack him. She warns him to stay in his limits. He tauntingly asks her to attack him. She tells him that she can do anything to save Mohan's life. She attacks him. She warns him to not move from there and breaks the lock. Ketki asks Radha to return with Mohan. Radha nods at her. She takes Gungun from there.
Rahul tells everything to Damini. Damini tells him that he is useless. She orders Security guards to not let Radha enter the hospital. Radha comes there with Gungun. Damini glares her.
Episode ends.
Also See: