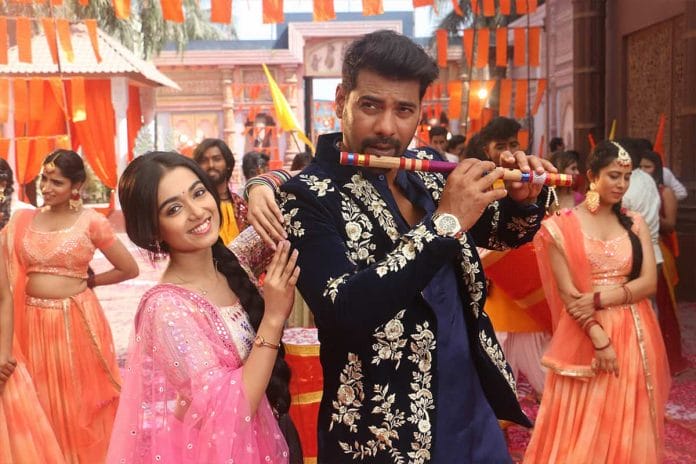 Pyar Ka Pehla Naam Radha Mohan 25th January 2023 Written Update on TellyExpress.com
Episode begins with Mohan gives his wife rights to Damini. Damini tells him that this is wrong and how is this possible. He tells her that wrong happened with them. Kaveri tells him that marriage is not joke and it won't do any good for Damini. Kadambari tells Mohan that Kaveri is right. Mohan tells her that Radha has to leave the house once he gets Gungun's custody. He says that he will marry Damini after ending his marriage with Radha. Radha tells him that marriage won't break that easily. She says that she won't leave her husband and she won't let anyone take her place.
He tells her that he won't accept her as his wife. He says that he will make Radha realise her mistake until she is in his house. He adds that he will give pain to her. She tells him that she knew he will react like this. He tells her that he never tolerates betrayal and he ruins the life of betrayer. He tauntingly congratulates her for the marriage and goes inside. Kadambari takes Gungun with her. Others goes inside.
Damini tells Radha that the latter lost after winning too. She says that Mohan accepted her as his wife due to Radha. Radha tells her that she is Mohan's wife and the latter is second women. Damini tries to slap her but the latter holds Damini's hand and warns her to not repeat the mistake. She says that she is Radha Mohan Trivedi now and she is more powerful than before. She tells them that they are standing in her house. Damini tells her that she has Mohan's love. Radha tells her that the latter is wrong and Mohan is just fulfilling his responsibility. Damini tells her that the latter played well but lost it and goes inside.
Radha says that she never thought she will feel lonely. She recalls that how Rameshwar and Dadi cut off all ties with her. She enters her room and says that she made sin by breaking everyone's heart. She says that she need Tulsi's support now. Tulsi's spirit makes the toy fell down. Radha tells her that she feel like everything ending because no one is happy. She says that she is not understanding what she should do now.
Gungun comes there and asks Radha to not cry because marriage happened. Radha tells her that everyone hate her now. Gungun treats her injuries. She reminds her that no one liked her when she entered the house so she has to win their heart again. Radha asks her that how she is going to do that. Gungun takes Bhagavad Gita and tells her that wrong won't happen with good people. She assures her that she is with her. Radha says that it's time to sleep and she gets ready to sleep in Gungun's room. Gungun tells her that the latter has to sleep in Mohan's room from today. She tells her that Damini will go to Mohan's room if the latter delayed then.
Episode ends.
Also See: