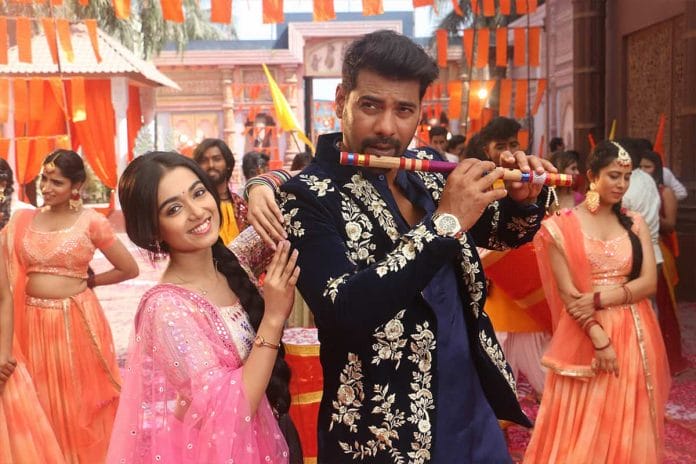 Pyar Ka Pehla Naam Radha Mohan 26th November 2022 Written Update on TellyExpress.com
Episode begins with Mohan opens his eyes. Doctor says that God is this world's biggest doctor. Gungun thanks Mohan for returning. Doctor asks everyone to stay outside. They leaves the room. Kadambari thanks Radha for bringing Gungun to the hospital. She says that Radha saved Mohan once again. She tells Gungun that the latter gave new life to Mohan by calling him as papa. She thanks her. She hugs Gungun and Radha. Doctor tells them that Mohan is fine now and they can meet Mohan.
Everyone goes inside. Kadambari asks Mohan that how can she live without him. Mohan asks her that where is Gungun. Gungun goes to him and holds his hand. He hugs her. He asks her to repeat what she said. She calls him as papa. He tells her that he can stay unconscious for lifelong if she will call him like this then. She scolds him for talking like that. He notices Radha.
Radha runs towards him and hugs him. She scolds him for jumping from the bus like that. Damini gets irritated seeing Radha holding Mohan's hand. She holds Mohan's hand and tells him that she is glad he is fine. She asks him that if he is feeling better. He notices her outfit and asks her about it. She tells him about Maha Pandit ji's words and the marriage rituals. She says that they can continue the marriage rituals. Mohan asks Kadambari that what's all this. He says that he don't want to marry. Kaveri asks him to do it. Kadambari tells her that Mohan needs rest now not marriage. She says that marriage will happen but not now. Damini leaves from there.
Kadambari and Radha follows her. Damini asks Kadambari that why marriage can't happen now. She says that Radha is still there. Kadambari asks her to not say anything against Radha. She says that Mohan is alive due to Radha. She adds that Radha has proved that she is not curse for them and goes inside.
Damini is about to leave from there but Radha stops her. Radha says that God knows she never wished bad for Trivedi family. She tells her that she doubt her for all the wrong things happening with Trivedi family. She says that she won't fight with her until she finds proofs against her. Damini tells her that her marriage will happen with Mohan in two days. Radha tells her that she will stop the marriage if her doubt turns out to be true.
Ajeet informs Ketki that Mohan is fine now. Tulsi's spirit gets relieved hearing about Mohan. Next day, Mohan asks Gungun to keep calling him as papa. Gungun pushes Radha on Mohan so Mohan holds Radha. Gungun makes them praise each other. Damini gets angry seeing them. Kaveri tells her that the latter's plans getting flopped one by one. Damini says that she will get married to Mohan on the fixed date.
Episode ends.
Also See: