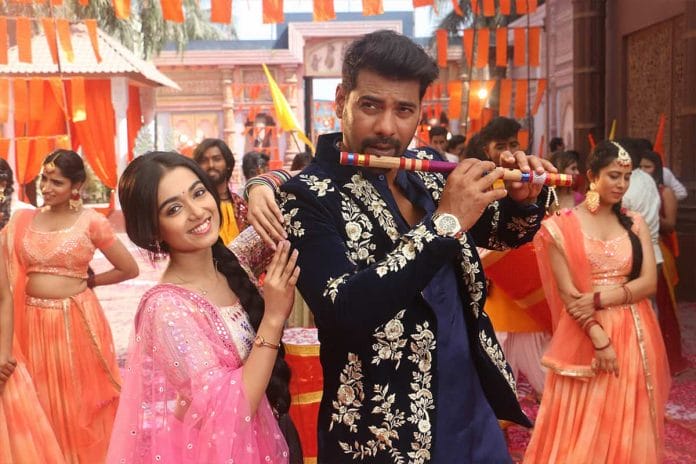 Pyar Ka Pehla Naam Radha Mohan 4th January 2023 Written Update on TellyExpress.com
Episode begins with Mohan apologizes to Damini. Damini tells him that he is stopping her for Gungun. He tells her that he don't expect her to marry him for Gungun and he apologized to his friend for suspecting her. He says that Damini loved him and supported him always without expecting anything in return and he know she won't do anything wrong with his family. She tells him that they should stop everything now. She congratulates Radha for winning. Kadambari tells her that they wants her marriage to happen with Mohan. She asks Kaveri to make Damini understand. Kaveri tells her that she won't do anything like that.
Mohan tells Damini that she will get only love from now on and he accepts her wholeheartedly. Tulsi's spirit tells Mohan that he did wrong. Damini tells Mohan that she won't leave but Radha has to leave the house. Gungun says that Radha won't go anywhere. Damini says that this marriage won't happen if Radha is there then. She tells Mohan to see Kaveri's condition. She asks him if he would not have reacted like this if this happened with Kadambari then. Radha tells Mohan that this is Damini's new trap.
Damini says that today everyone will see Radha's true face. She plays a video in which Gungun asks Radha that if God helped her to take pheres with Mohan. Radha tells her that God did not help her. Gungun asks her about ghost. Radha thinks that she can't let Gungun dependent on God for everything and let her believe in ghost. She lies to her that she took pheres on her conscious state and no one helped her. Kaveri records everything. Mohan gets shocked seeing the video. Radha tells Mohan that everything is lie.
Dadi and Rameshwar comes there. Radha hugs her Dadi. Damini says that she called Radha's family to take Radha away. Dadi tells Radha that they should go home. Radha tells her that she won't leave without exposing Damini. Damini asks Mohan to decide in between her love and Radha's friendship. Kadambari tells Mohan that Radha should leave. Ketki, Ajeet and Shekhar asks Mohan to not let Radha go. Vishwanath says that he is sure Radha is telling the truth. Tulsi's spirit tells Mohan that only Radha can stop Damini's wrongdoings.
Mohan tells Radha's family to take Radha away. Radha gets shocked hearing him. Dadi says that there is no point of Radha staying there. Radha says that she won't leave the house. Dadi says that she should have take Radha with her when she said she love Mohan. Mohan gets shocked hearing her. Kaveri says that whole family is trying to trap a rich guy. Radha warns her to not utter a word against her family. Dadi says that she made mistake by letting Radha stay there. Radha tells her that Mohan needs her so she can't leave. Dadi tells her that Mohan won't get Radha.
Episode ends.
Also See: