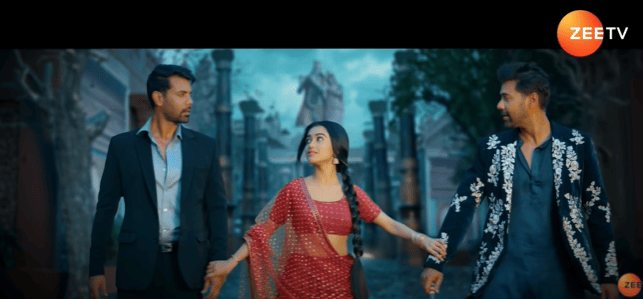 Pyar Ka Pehla Naam Radha Mohan 5th July 2022 Written Update on TellyExpress.com
Episode begins with Mohan helps Radha to wash her face. One guy clicks their photo and Damini signals at him. On the other hand, Ajeet offers food to Ketki. Ketki regrets for marrying him. She says that she would have throw Damini out of the house but Ajeet ruined everything. He tells her that she was accusing Damini unnecessarily. She says that she is sure that Damini is planning something and her target is Radha. Next day, Radha waters Tulsi plant. She notices the newspaper and gets surprised seeing her and Mohan's photo in it. She could not read the headline because that's English newspaper.
She gives the newspaper to Kadambari and tells her that seems like they published how Mohan helped her yesterday and smiles. Kadambari reads the newspaper and gets shocked seeing the title. Radha tells Gungun that first time her photo got published in the newspaper. Everyone reads the newspaper. Mohan comes there and asks them that what happened. Rahul mockingly congratulates Mohan. Mohan reads the newspaper and gets shocked. Radha says that she feels like she did something big in her life. Mohan asks her to stop it. He tells her that this news says that he cheated on Damini with Radha which shocks her.
Kadambari asks them that what were they doing there. Damini thinks that she should begin the third step of her plan. She asks Kadambari to not get angry because Mohan was just helping Radha and even she was there with them. Kadambari asks her to not say anything. She says that no where mentioned about Damini in the newspaper and society will believe newspaper only. She adds that society will accuse Mohan only. Radha tells her that this is false news. Ketki says that few journalists writes these kind of false news. Kadambari says that she can't tolerate this accusation. Kaveri scolds Radha.
Radha says that lie can't win against truth. She apologizes to them for bringing this trouble. Mohan asks her that why she is apologizing when she did nothing wrong. She says that she brought insult to this family. He tells her that this false news can't ruin their reputation. Kadambari says that she trust them but his reputation is not well already because of Tulsi's case. She adds that she don't want anyone to point fingers at them again because of false news. He tells her that he won't let anything happen to his family's reputation. He says that Shekhar will find out about journalist and everything. They gets calls from relatives and business associates and talks about news.
Damini pretends like her friend asking her to leave Mohan and smiles. Ketki notices Damini's smile and thinks that what if Damini is behind this news. Mohan asks Radha to not think about this news and leaves from there. Kaveri scolds Radha for roaming around Mohan always. Radha gets worried that how her family will tolerate this news.
Meanwhile, village people shows the newspaper to Rameshwar and Sundari Dadi. They badmouths about Radha. Gungun asks Radha that why the latter is crying when she is innocent. Radha tells her that everyone will question her family. She asks God to protect her family and give strength to them.
Episode ends.
Also See: