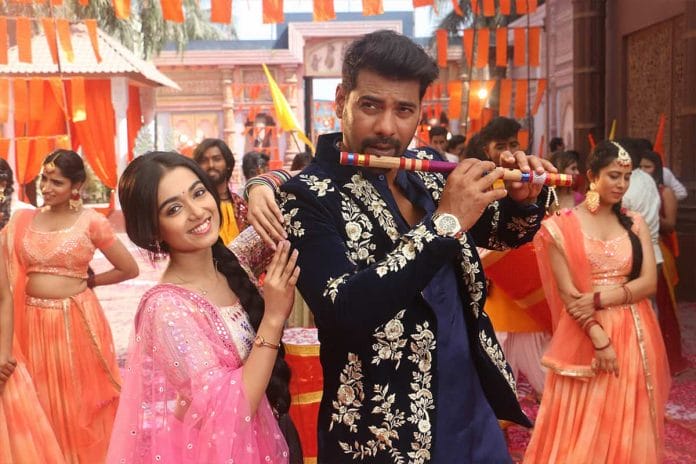 Pyar Ka Pehla Naam Radha Mohan 5th November 2022 Written Update on TellyExpress.com
Episode begins with Damini disconnects the call before Police inspector completes the sentence. Police inspector asks her that why she did not let him tell that they can't save the driver and Radha can die in this mission. Damini tells him that they can't put others life in danger to save Radha. She asks him that if he has any other plan. He shook his head. She tells him that Radha is like her sister but she can't ignore the fact that his daughter is inside the bus. She asks him to save the students. She says that Radha is her responsibility. She thinks that not even God can save Radha now.
On the other hand, Tulsi's spirit tells God that injustice happening with her. She says that she just wanted to protect her family, but God did not let her do that. She says that she wanted to stay alive but God killed her. She says that she returned to protect her family but God stopping her again. She says that she can't do anything due to that raksha kavach. She asks him that why he brought her to this world again. She says that she died already. She asks him to not kill her again. She asks him to give Radha to strength to save the students. She pleads him to save everyone.
Mohan calls Damini and asks her about risk. Damini tells him that they have to execute the plan. She says that saving the students is their priority. She tells him that they will save students first and disconnects the call. Radha thinks that she won't let anyone get hurt and she don't care about her life.
Police inspector tells Damini that she is great to choose strangers life than her loved ones life. Damini tells him that she can't forgive herself if anything happened to Radha then but she can't stay alive if students died due to her decision then. Media reporters reports about bus hijack. Damini calls Pratap and asks him that why bomb did not blast yet. She scolds him for not leaving the city yet.
Media reporter says that all the students life in danger due to Gungun. Kadambari scolds him. Kaveri also scolds Media reporter. She threatens to curse them. She tries to attack them. Mohan asks Radha to not cry. He says that they will save everyone. Radha gets worried that she may make mistake. He motivates her. He says that no one will die today. Dulari sees news. Tulsi's spirit cries due to her helplessness.
Kadambari asks Damini that if the latter really did not hear when Mohan said about bomb. She says that she will tell all the truth to Mohan once Gungun returns alive. She says that Mohan will take decision after learning the truth. Damini decides to kill Kadambari. She plans to push her from the cliff. She laughs and claps. Kadambari asks her that what happened to her. Damini moves towards her.
Episode ends.
Also See: