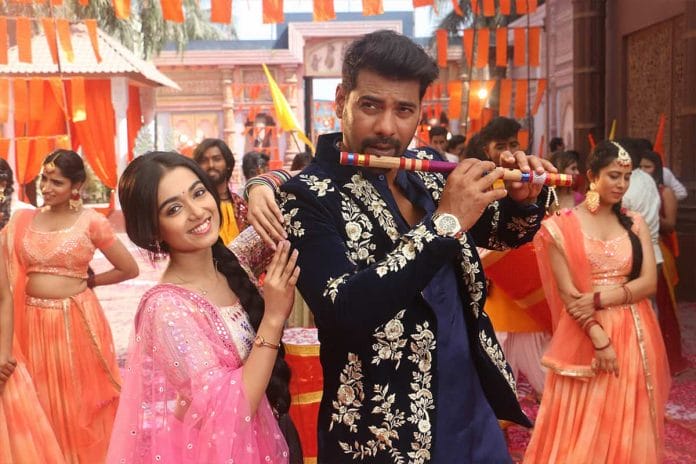 Pyar Ka Pehla Naam Radha Mohan 7th January 2023 Written Update on TellyExpress.com
Episode begins with Tulsi's spirit tells Radha that they have to stop this marriage. She says that she made biggest mistake of her life by leaving the house and she lost everything due to that. She wonders that how she is going to talk to Radha. Rameshwar tells Dadi that auto is waiting for them. On the other hand, Gungun tells Mohan that Radha did only good things for him still he throw Radha out of the house. She says that she don't care he marries Damini or not. She adds that she know Damini will throw her out of the house one day. Kaveri tells Damini that Gungun understands the latter very well.
Gungun says that she won't attend the marriage and goes inside. Damini says that Radha is responsible for Gungun's attitude. Mohan says that Radha taught good values to Gungun. Ketki says that she won't attend the marriage too. Kadambari says that they can leave the house if they won't attend the marriage then. Ketki asks her that what is this. Damini thinks that everything is going on in her favor.
Tulsi's spirit tells God that even he know Radha did nothing wrong still she had to leave the house. She says that Radha did whatever she can do and now it's her turn. She asks him to tell a way to talk to Radha. She bends down and she notices her nuptial chain. She asks him that if she can talk to Radha using her nuptial chain. She pleads him to help her.
Gungun comes there and tells God that she don't want Damini to become her mother. She takes tulsi mala from the temple and says that Radha taught her this tulsi mala protects everyone. Tulsi's spirit smiles hearing her. She thanks God for helping her through Gungun. She says that she and Radha are connected through Gungun too. She thanks God and Gungun for showing path to her. She promises to Gungun that Radha will become the latter's mother.
In the auto, Radha recalls that how Damini threatened to kill Gungun. She asks auto driver to stop the auto. She get off the auto. Dadi asks her that where the latter is going. Radha tells her that Damini is dangerous person and she has to save Gungun from Damini. Dadi scolds her. Rameshwar tells Radha that they can't leave her in that house after what happened today. Radha says that she care about Mohan and Gungun only. Dadi asks her to forget them. Radha tells her that she would have left if Damini was good person then. She says that she can't leave Gungun in danger. Dadi lashes out at her for ignoring their insult.
Kaveri says that they should change the decorations. Damini agrees with her and says that she want a fresh start. Mohan tells Kadambari that Damini is bride and she can wish this. He tells Damini that marriage will happen in grand way as per her wish. She thanks him and hugs him.
Episode ends.
Also See: