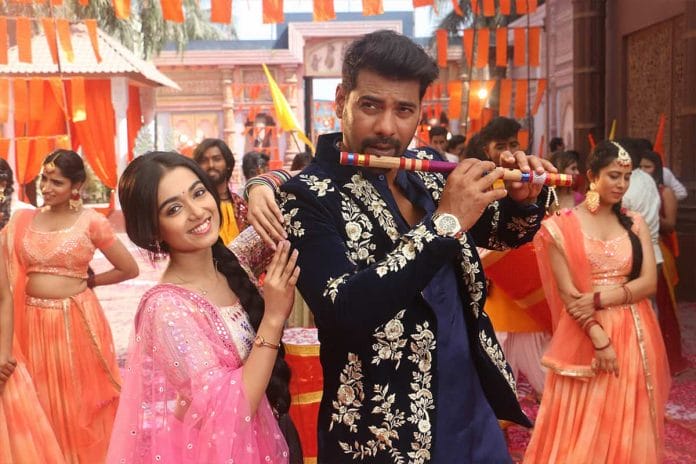 Pyar Ka Pehla Naam Radha Mohan 9th November 2022 Written Update on TellyExpress.com
Episode begins with Mohan tells Gungun that nothing will happen to him and he won't let anything happen to her. Media reporter reports that Mohan and Kadambari started rescue operation.
Few minutes back
Mohan tells Radha that they are going to do rescue operation in the highway. Radha tells him that they can do anything together. Damini asks God to protect Mohan. Media reporter reports that Kadambari driving the trawler. He asks that it Mohan can save all the students. Tulsi's spirit watches the news. She asks God to protect her family.
Radha drives the bus to highway. Kadambari also drives trawler. Radha gets shocked seeing Kadambari driving trawler. She asks Kadambari that why the latter is driving the trawler and where is the rescue driver. Mohan tells her that rescue driver will reach after 3 hours but they have just an hour to save everyone. Radha asks him that what if anything happened to him and Kadambari. Mohan tells her that he will save everyone.
Kadambari tells Radha that if they are together then nothing will happen to anyone. Radha asks them to leave. Mohan asks her to stop talking nonsense. Ketki tells Mohan to leave. Kadambari tells her that she won't leave without saving her. Gungun asks Mohan to go from there. She says that she is worried about his safety. She tells him that she can't see him getting hurt because she love him so much. Mohan gets emotional hearing her. He tells his family that Gungun love him. Kadambari says that all the credit goes to Radha. She blesses Radha.
Damini regrets for doing all this. She wonders that what she will do if anything happened to Mohan then. Kaveri tells her wipe her sweat. She asks her to not do anything from now on.
Media reporter asks that how Mohan is going to perform this difficult task which is saving the students. Mohan puts the ladder on the bus. He tells Ketki that he is coming to the bus. He walks on the ladder and gets in the bus. He hugs Gungun and Ketki. He asks Ketki to help him to save the students. He asks her to send the students one by one. One of the student gets afraid. Ketki and Mohan assures that student. Mohan saves the students one by one. Everyone watches on live.
Kamya hesitates to walk on the ladder. Gungun motivates her. Mohan holds Kamya's hand. Kamya falls on the ladder and she refuses to walk. Mohan tells her that they don't have much time. He saves her. He asks Gungun to come. Gungun tells him that Driver is not well so the latter has to save driver first. Ketki fails to lift Driver. Mohan gets in the bus. Driver blesses Radha. Mohan holds driver and takes him to trawler. He asks Gungun to come out. Gungun tells him that she won't come without Radha.
Episode ends.
Also See: