Pyaar Ka Pehla Naam Radha Mohan Spoilers, Upcoming Story, Latest Gossip , Future Story, Latest News and Upcoming Twist on tellyexpress.com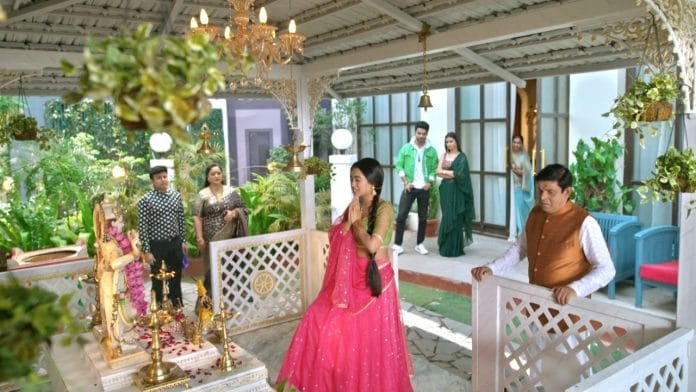 In the Friday episode of Prateek Sharma's "Pyar Ka Pehla Naam Radha Mohan" we see that Radha prays to Lord Krishna and vows that she won't eat or drink anything until she find Bhagavad Gita. Radha stands on one feet in front of Banke Bihari. The whole day goes by and she is still standing like that and everyone is concerned about her.
Mohan and Damini are at a printing press, when Kadambari calls Mohan and tells him about the whole situation. Mohan then notices that Radha's Gita is in the shredding machine and he takes it away. The journalists come to take Damini and Mohan's pic but she asks them to come home.
Once they reach home, Mohan gives the Gita to Radha and she falls into his arms. The journalists take Radha and Mohan's photos. Later, Radha feels fine and Mohan scolds her for all that she did.
Later, everyone at home is worried as it's Tulsi's birthday. And Mohan is upset because of that. Will Radha be able to lift up his mood? To know what happens next, keep watching "Pyaar Ka Pehla Naam Radha Mohan".
"Pyar Ka Pehla Naam Radha Mohan" produced by Prateek Sharma's Studio LSD features Shabir Ahluwalia, Neeharika Roy, Keerti Nagpure, Reeza Choudhary, Sambhabana Mohanty, Swati Shah, Manisha Purohit, Brij Kishore Tiwari, Kajal Khanchandani, Rajendra Lodhia, Pooja Kava, Sumit Arora, and Ranveer Singh Malik. It airs on Zee TV.