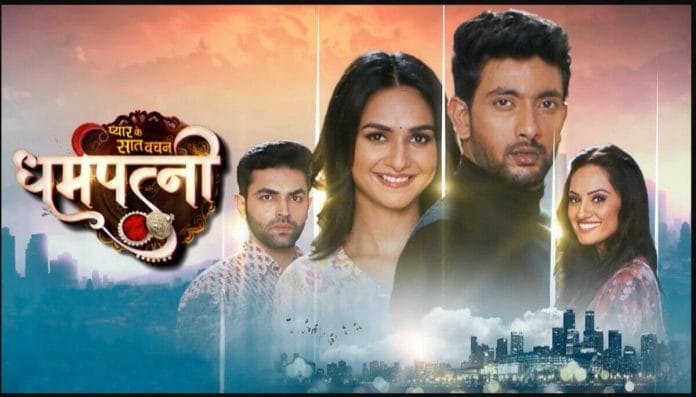 Pyar Ke Saath Vachan Dharampatnii 10th January 2023 Written Update on TellyExpress.com
In today's episode, Ravi finds out that the earring belongs to Pratiksha. Hansa keeps shouting outside the room. She asks Kinjal to break the door. Ravi calls police inspector and tells him about his investigation by showing Pratiksha's pair of earrings. Inspector says that he is coming soon to arrest Pratiksha. Ravi's father worries for him. Ravi calls him and informs him that he has found Keerti's murderer. He tells him about Pratiksha. His father expresses his disbelief as Pratiksha had no connection with Keerti. Ravi says that he will not spare Pratiksha and he will himself punish her.
Malhar tells Pratiksha that his room has become a mess and asks Pratiksha to rearrange it. Pratiksha agrees. Pratik comes there to give lift to Malhar as it's his joining day. He asks Malhar to be punctual. Malhar says that he was only waiting for Pratiksha. They leave for the police station. Hansa keeps calling Ravi. She calls Pratik. Pratik drives his scooter so he doesn't pick up Hansa's call. Hansa gets irritated. Pratik drops Malhar outside the police station and wishes him all the best. Hansa listens that Ravi is talking over phone and he is mentioning about police.
Hansa thinks about calling Malhar. She calls Malhar and says that someone has entered the house forcefully and is probably stealing something from Pratiksha's room. Malhar says that he is coming soon with his team. Pratiksha comes home. Kinjal, Parul tell her about Ravi. Hansa calls Ravi thief and says that Malhar will come to arrest him. Pratiksha asks her to not toungelash Ravi as she knows Ravi, Keerti well that they are a sweet couple. Pratiksha calls Ravi. Ravi hears her voice and opens the door. He looks at her angrily.
Hansa goes to check inside Pratiksha's room. She sees that Pratiksha's earrings are missing from a jewlery set. She comes out and questions Ravi. Ravi lashes out at Pratiksha for killing Keerti. Pratiksha looks clueless. Ravi keeps accusing her and tells her about the proofs. Pratiksha cries and says that she didn't do anything. Ravi doesn't listen and asks her to bring Keerti back in his life. He also says that he didn't feel right when he and Pratiksha crossed paths for the first time. He says that Pratiksha kept coming in his and Keerti's ways as she wanted to kill Keerti and snatch her from him. He asks Pratiksha why she did this.
Malhar comes home. He gets shocked seeing Ravi. He understands that Ravi is suspecting Pratiksha not him. He feels safe and thinks that he can easily save Pratiksha too. He goes to arrest Ravi. His senior comes and interferes. He says that Malhar can't arrest Ravi. Hansa says that Ravi has stolen Pratiksha's earrings. Inspector says that Pratiksha's crime is much bigger than Ravi's. He says that he is handling the case. He tells Pratiksha about the proofs they got from the accident spot. Ravi says that he didn't take Jugni's prediction seriously but she was right. Pratiksha recalls Keerti and cries bitterly. Pratik comes home. Ravi again accuses Pratiksha infront of him. The episode ends.
Precap – Ravi says that whoever it is he or she won't be spared, Ravi himself will punish him or her. Pratiksha is put behind the bars. Kinjal, Parul cry for her. Pratiksha feels helpless. Malhar enjoys outside. Pratik tells Malhar that he will not let anything happen to Pratiksha. Ravi says that Pratiksha has snatched everything from him now he will snatch her everything and will hurt her the most.
Click to read