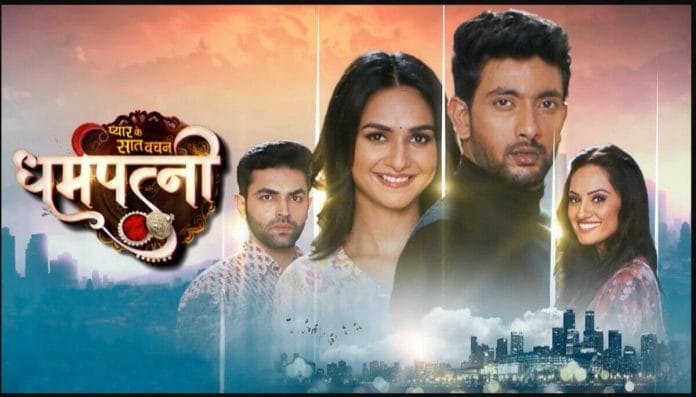 Pyar Ke Saath Vachan Dharampatnii 11th January 2023 Written Update on TellyExpress.com
In today's episode, Pratiksha tells Ravi that she didn't kill Keerti and their last meeting was fantastic, they got to know more about each other. Ravi asks her why did she come in his way again and again. He curses Pratiksha that she will always remain alone just like him and she will also not get her love like him. Kinjal, Parul cry over the fact that Ravi is misbehaving with Pratiksha. Police asks Pratiksha to accompany them for further investigations. Pratik defends Pratiksha saying that she can't murder anyone. Kinjal, Parul also say the same.
Inspector shows the arrest warrant to Pratik. Ravi tells Pratiksha that he will make sure that she stays alone her whole life. Pratiksha again tells Ravi that she is innocent, their meetings were nothing but coincidences. Ravi shows Pratiksha her earring and asks her how it reached Keerti's accident spot. Malhar gets thoughtful. Pratiksha recalls her meeting with Keerti and says that she hugged her that day so her earring might got stuck in Keerti's dress. Ravi asks her to not make stories. Pratik shouts at Ravi saying that he is mistaken and he will clear the air very soon.
Ravi tells Pratiksha that she will loose her everything like Ravi and will get punished for her deeds. He leaves. Pratiksha gets arrested. Hansa asks Malhar to save Pratiksha. Malhar says that he will do something. He feels thankful as he got saved. He thinks that he will not let his would be wife stay in the jail for long. Pratiksha is taken to the police van. The neighbours gossip about her. Kinjal, Parul hug her and says that she is innocent. Police says that it's a high profile murder case. Pratiksha asks her sisters to not cry as Pratik will do something and she will be back soon. Lady constable says that it's a murder case so Pratiksha will not be back soon.
Ravi thinks that Pratiksha is lucky to hug her near ones for the last time unlike him. Pratiksha looks at Ravi and sits in the van. Jugni again gives her predictions that everything is destined and this is not beginning of a story but a legend. Ravi drives car and recalls Keerti. Pratik tells Hansa that Ravi is an influential person so he also needs to contact someone powerful to save Pratiksha. Hansa says that Malhar's reputation is at stake because of Pratiksha.
Pratik says that he doesn't care about anyone else except Pratiksha. He calls someone. Pratiksha is put behind the bars. She tells inspector that she is innocent. Inspector mocks her and says that proofs are against her. He doubts that Pratiksha might killed Keerti for money. Pratiksha says that she prayed for the victim. Inspector asks her to produce proof in her support.
The car owner and his employee Ankush come to police station. Inspector tells them about the accident. Ankush mentions about Malhar. Pratiksha hears their conversation and gets to know that Malhar brought that rental car. Ankush recalls Malhar's words and decides to not open his mouth to avoid any problem. Pratiksha talks to the owner and Ankush and get to know that Malhar gave them 5000 rupees for the damage.
She recalls whatever happened on that day and wonders why Malhar was behaving weirdly that day. She wonders how he got to know about Keerti's accident when he was not present in the accident spot, why he sat/hiding himself on back seat during naka checking when it's not an offense to drink and sit in car's passenger seat. She wonders if Malhar is responsible for Keerti's accident. The episode ends.
Click to read