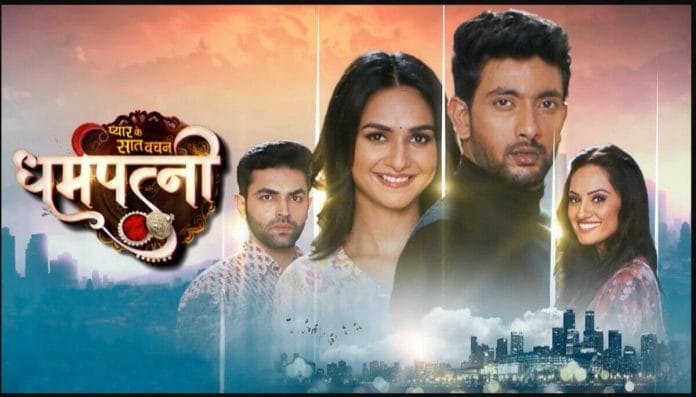 Pyar Ke Saath Vachan Dharampatnii 13th January 2023 Written Update on TellyExpress.com
In today's episode, Ravi remembers Keerti and spends his days in his room. He keeps asking Keerti to come back. Pratiksha sheds tears in jail. She recalls how Ravi accused her of Keerti's murder and cursed her. Ravi's mother feels sad seeing his condition. Nine days have passed like this. Pratiksha asks Malhar why no lawyer has come for her bail. Malhar says that it's a high profile murder case and no lawyer wants to go against Ravi and Keerti's families. Pratiksha asks him if she will get punished for the crime she never committed.
Malhar says that he will get his hands on the CCTV footage soon. He assures Pratiksha that he will do something and will not let anything happen to his would be wife. Pratiksha asks him to check the footage carefully and punish the real murderer. Ravi fails to stand on his feet. His mother asks him why he is punishing himself like this. She says that she can't see Ravi like this and one day she may also die like Keerti. She says that Keerti is watching Ravi and she will not be happy seeing him like this. She asks Ravi to be happy if he wants Keerti to stay happy.
Ravi says that he is in pain and is not able to bear it. His mother says that her mother abondoned her in her childhood but she didn't give up. She says that life goes on and we have to live it not for ourselves but for our close ones. She suggests Ravi to do all the favourite things of Keerti to make her smile. She asks him to not forget Keerti but bring the old Ravi back. Ravi says his mom is right, he won't waste anymore time and will do things that will make Keerti happy. He goes and opens the window. Malhar checks the CCTV footage and fails spot himself. As Pratiksha didn't kill Keerti, Malhar thinks that they both are safe. He plans to arrest Thakur and Raghu to punish Keerti's real murderers. He goes to confront them with his team. He boasts about his powers infront of Raghu. He gives order to arrest Raghu.
Raghu tries to escape but Malhar catches him. Raghu says that Malhar has to pay for it. Malhar says that he is not afraid of him or Thakur. He calls Pratiksha and says that he will release her soon as he has arrested the real murderers. Pratiksha thanks Malhar. She thanks Mata Ambe. Malhar sees Thakur calling him. He picks up the call and his expression changes. He goes to meet Thakur with Raghu. He tells Thakur that he has proof against him unlike Thakur. Thakur gives a sarcastic laugh, his man captures Malhar.
Thakur shows him the video recording where Malhar ran over his car on Keerti. Malhar gets scared and asks Thakur to forgive him. He requests him to not send this video to police station. He removes Raghu's handcuffs. Thakur threats to visit Gulshan and Ravi and inform them about Keerti's murderer. Malhar requests him to not do that. Thakur says that he can spare Malhar in one condition i.e Malhar has to work for him afterwards otherwise he will expose him.
At police station, Malhar's senior asks him about any progress in Keerti's murder case. Malhar says no. Senior asks Malhar to take the case seriously as Gulshan Sachdeva, Keerti's father is handling the case and he will do anything to find the culprit. Pratiksha asks Malhar about the proofs. Malhar asks her to appear in court tomorrow and says that he will do something. Pratiksha cries thinking about the circumstances. The episode ends.
Click to read