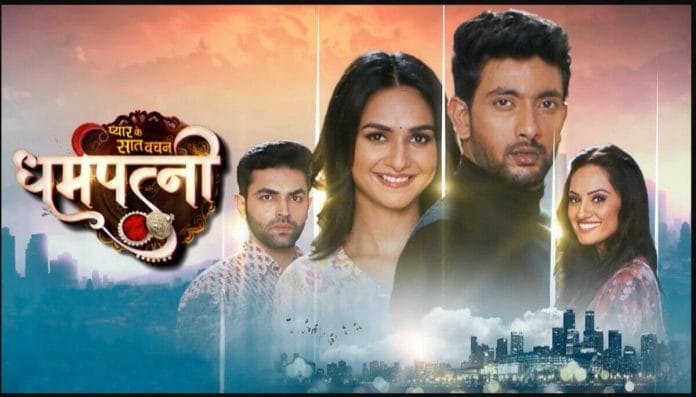 Pyar Ke Saath Vachan Dharampatnii 16th January 2023 Written Update on TellyExpress.com
In today's episode, Pratik goes to feed sugar and curd to Pratiksha. Pratiksha says that it can't help her. Pratik asks her to not stress as she is innocent. Pratiksha says that they are not influential like their opponents. Pratik says that Malhar is an inspector now, he will not let anything happen to his would be wife. He feeds her the curd and sugar. Pratiksha is taken to the court. She sees her and Ravi, Keerti's family. Kavya tells Ravi that court will punish Pratiksha. Ravi says that he will give the same pain to Pratiksha which she gave to Keerti. Malhar prays to Ambe ma to give him strength, he decides to do what is necessary.
In the court, Gulshan interrogates Pratiksha. Pratiksha says that she and Keerti met before as she saved her from kidnappers once but she didn't share any formal or informal bond with Keerti. Gulshan asks her how her earring reached the accident spot. Pratiksha says that she met Keerti on the Sangeet day so her earring might left there. Gulshan calls Kavya and hugs her. He tells the judge that Kavya is his daughter but while hugging her earring doesn't get stuck in his coat. He claims that Pratiksha is lying, neither she hugged Keerti nor her earring got stuck in Keerti's dress. He calls Pratiksha a cold blooded murderer.
Kinjal, Parul stand up and defend their sister. Hansa asks them to behave properly. Gulshan asks Pratiksha to admit that she killed Keerti. Pratiksha cries and says that she is innocent. Judge asks her if she had any old rivalry with Keerti. Pratiksha says that she didn't and Keerti was a great human being. Gulshan looses his calm and asks Pratiksha why she killed his daughter. Pratiksha's lawyer starts defending her by showing Gulshan's pictures with a random girl. He says that just like a picture, an earring can't prove anyone gulity. Gulshan says that earring belongs to Pratiksha and asks police to bring the jewlery set.
Malhar brings the set. Flashback shows that Malhar took the jewlery set from Pratik's house with the help of Hansa to prove Pratiksha innocent. The jewelry set is presented before the judge, Gulshan provides her missing earrings found at Keerti's accident spot. Judge says that both earrings are same. Gulshan asks the car owner for interrogation. He tells that Malhar knows better as he took the car from him. Judge asks Malhar about the case. Malhar says that he has checked CCTV footage in which Pratiksha is seen driving the car. He adds that he was sleeping in the back seat. Pratiksha wonders why Malhar is lying. Judge says that she will give her verdict on Monday. Pratiksha cries holding Pratik. Pratik says that he will do something.
Ravi's aunt toungelashes Pratiksha. Hansa gives her befitting reply. Outside court, Ravi and Gulshan meet Pratiksha. Gulshan says that he will not spare her. Ravi asks her why she did this and holds her hand tightly. Pratiksha says it's hurting. Ravi says that Pratiksha has given much more pain to him. He says that he will make sure that Pratiksha gets punished and stays alone whole life. Pratiksha is taken to the jail. Gulsha tells his and Ravi's family that he is winning the case. Kavya sits in Ravi's car. Ravi tells her that they are winning the case but things will never become like before. The episode ends.