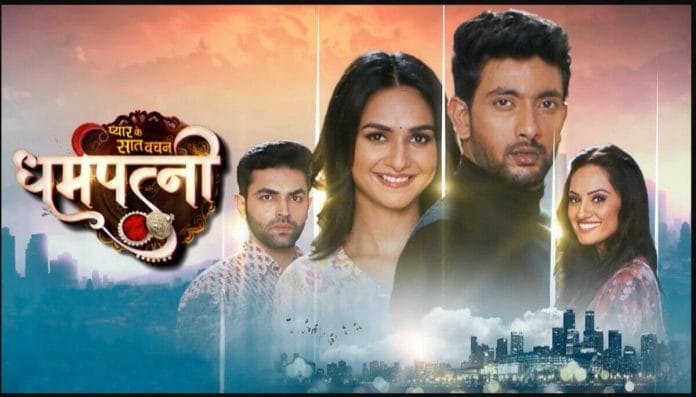 Pyar Ke Saath Vachan Dharampatnii 19th December 2022 Written Update on TellyExpress.com
In today's episode, tempo driver comes there, sees the police and leaves. Raghu wonders what to do with the two girls now. Tempo driver informs him about police. Raghu asks him to leave the tempo for him and go away. Ravi questions the police. Malhar asks him to leave. Thakur calls Raghu. Raghu informs him about the police. Thakur orders him to not get caught by police and bring Keerti infront of him at any cost. Ravi gives threats that he will not spare anyone if anything bad happens to Keerti. He says that he doesn't need anyone and goes inside to search Keerti. Others try to stop him.
Raghu heard some noise and hides Keerti inside a cupboard. Home minister orders police to stop Ravi. Police blocks Ravi. Pratiksha requests everyone to leave Ravi and let him search Keerti. She informs everyone that it's Ravi's engagement too and he is searching his fiance Keerti. She requests Pratik to let Ravi do what he wants to do. Pratik convinces home minister. Home minister praises Pratiksha. Police agrees to co operate with Ravi. Pratiksha's dupatta gets stuck in Ravi's watch so Pratiksha's is pulled forward as Ravi goes to search for Keerti.
Later Ravi sees it and tears Pratiksha's dupatta to set himself free. He tries to break into wrong door. Pratiksha tries to tell him correct directions to search. Ravi assumes that Pratiksha may have knowledge about such kidnappers. Pratiksha tries to protest, Ravi asks her to not pretend as if she cares for Pratiksha. Pratiksha says that she likes Keerti a lot as she helps others. They head towards the correct room. Raghu and his man hides Keerti with clothes and leave the room. Ravi and Keerti come there. Ravi feels that Keerti is behind the cupboard. He asks Pratiksha to call others for help. Malhar and others come there.
Ravi asks Malhar if he is behind the kidnapping as he was so sure that Keerti is not in the house. Pratiksha and Hansa defends Malhar. Malhar worries if Raghu is behind this kidnapping. Police finds Kinjal behind the cupboard. Ravi wonders about Keerti's whereabouts. Raghu drives the tempo with Keerti and his man. He says that he had to hide the other girl behind the cupboard as he was in hurry. Raghu calls Thakur. Thakur orders him to kill Keerti by dropping the tempo from a cliff. He says that Keerti has to die to give them safe passage.
Kavya wonders about Keerti's whereabouts. She complains to Ravi's sister that Keerti needs weird attention everytime. She thinks that both Ravi and Keerti will return home after getting engaged in some temple as for both muhurat matters a lot. Ravi guessed right about what happened to Kinjal. Kinjal gains consciousness and says that Ravi is right. Ravi says that he won't spare anyone if anything happens to Keerti. Keerti thinks about jumping from the tempo to get rid of Raghu. The episode ends.
Click to read