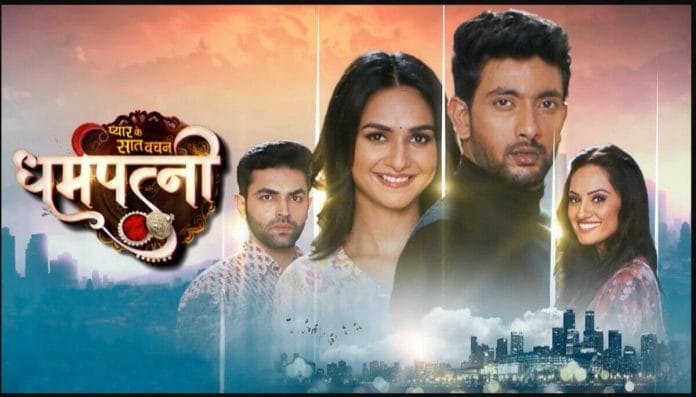 Pyar Ke Saath Vachan Dharampatnii 19th January 2023 Written Update on TellyExpress.com
In today's episode, Ravi's mother Mandeep worries for Ravi as he is greatly affected by Keerti's demise. She blames Pratiksha for Ravi's condition. Ravi's father Deep gives her hopes that everything will be fine. Thakur tells Malhar that neither Pratiksha nor Pratik care for him. Thakur asks Malhar to kill Pratik in order to save himself. Pratik tells Parul that he will protect Pratiksha. Hansa tells him that Keerti's father is a great lawyer he will not spare anyone of them. Parul defends Pratiksha saying that her sister is innocent she didn't kill anyone.
Pratik shouts on Hansa saying that he won't let Pratiksha get a tiny scratch. Sitting inside jail Pratiksha cries over her fate. Ravi remembers Keerti. Pratiksha remembers her mother. The both cry. Jugni prays for Ravi and Pratiksha's happiness and unity. She says that Ravi and Pratiksha's love story will become a legend. Kavya talks to Aishwarya. Kavya tells her about Ravi that he is in depression after Keerti's death. Aiswarya says that Ravi needs emotional support which only Kavya can give him. Kavya says that Ravi only needs Keerti and meets her in imagination. Aishwarya blames Pratiksha for everything. Kavya says that one day she will destroy Pratiksha's life.
Aishwarya says that Pratiksha will be sentenced to death on Monday. Kavya says that Pratiksha should get painful death like Keerti. Gulshan hears their conversation. Pratik tells his senior that Pratiksha is innocent and asks him for his help. His senior agrees to help and arranges the CCTV footage Pratik wants. Pratik feels that he will prove Pratiksha's innocence before the judgement day which is Monday. Gulshan recalls Kavya's words. He calls an inspector whom he helped once. He reminds the inspector about a dangerous prisoner named Vimala in his jail. Gulshan asks him to send Vimala to Pratiksha's jail so that Vimala can kill Pratiksha in one night. The inspector agrees. Gulshan's wife asks him why he is doing this as Keerti will not return to them.
Gulshan says that he wants Pratiksha to get the same ammount of pain like Keerti. He asks his wife to not interfere in this matter. Pratik informs Pratiksha about the CCTV footage and asks her to not lose hopes. He also says that Ambe ma doesn't want Pratiksha to get punished for a crime which she never committed. Pratiksha says that Pratik is talking like her late father. Pratik says that he is her father only and he will never let anything happen to his daughter Pratiksha. He says that he is leaving and will come to meet her tomorrow again. Vimala trips Pratik. Pratik falls on the ground. Ravi wears a blue blazer to go on a date with Keerti. He comes downstairs. He hugs Kavya thinking that she is Keerti. He says I love to Keerti. Kavya cries. Ravi gets shocked seeing Kavya in place of Keerti. The episode ends.
Click to read