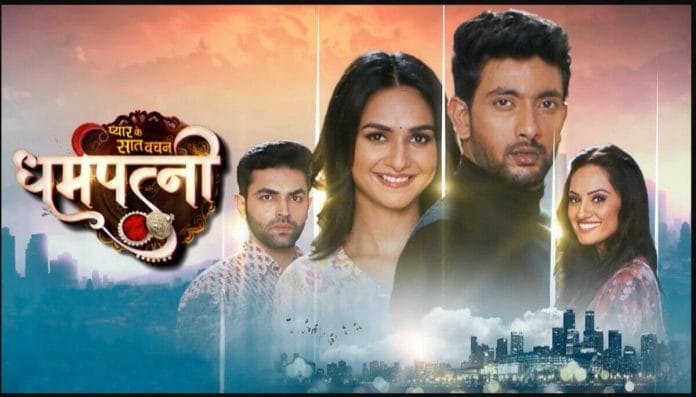 Pyar Ke Saath Vachan Dharampatnii 20th December 2022 Written Update on TellyExpress.com
In today's episode, Kinjal comes downstairs with the help of others. Pandit ji gears up to leave and informs Hansa that there is no time left for the engagement. Pandit ji at Ravi's place says the same to Ravi's family. Raghu stops tempo at a stop. Keerti jumps from the tempo. Some ladies surround her. Raghu fails to spot Keerti and leaves with tempo. The ladies give water to Keerti. Keerti takes phone from them and calls Ravi. Keerti cries and tells Ravi that she will never leave him. She tells how much she loves Ravi. She asks Ravi to reach home as she is leaving by auto. She asks him to not inform anything to the family members. She recalls the tempo number and leaves.
Keerti meets Ravi. Ravi asks her to get ready for the engagement. Keerti gives a tight hug to Ravi. Ravi helps Keerti to get ready. They get romantic. Pandits again say that they can't let the engagements to take place as the muhurat is over. Hansa gets stunned. She questions the pandit and says that they can't do all the arrangements all over again. Pandit says that it will be bad omen if the engagement takes place after the muhurat. Ravi, Keerti come infront of their family. They wish to get engaged. Ravi and Keerti's fathers convince their families for the engagement. Kavya becomes upset. Ravi thinks that Malhar is responsible for the situation as he didn't let Ravi search Keerti first and wasted his time.
Malhar, Pratiksha sit for the engagement. Both Ravi and Pratiksha recalls each other. Raghu meets Thakur. He informs Thakur that Keerti is inside the tempo. Thakur's men check the tempo and fails to find anyone there. Thakur questions Raghu. Raghu says that Keerti was inside the tempo only. Thakur beats Raghu. He gives him life threats and asks him to find Keerti again. Raghu says that he will find out Keerti again and bring her infront of Thakur. Thakur leaves with his men. Raghu gets call from the tempo driver who asks him to return the tempo. Ravi kisses Keerti's hand. They make each other wear the rings. Ravi, Keerti get engaged. Everyone becomes happy except Kavya and her friend.
Kavya feels hopeless seeing Ravi, Keerti's happiness. Pratiksha and Malhar make each other wear the rings. Hansa feed sweets to everyone. Hansa, Malhar congratulate each other. Ravi and Keerti's family celebrate together. Kavya asks Ravi to feed him sweet. Ravi asks her to take sweet herself. Keerti asks Ravi to feed Ravi. Ravi feeds sweet to both Kavya and Keerti. Keerti starts coughing. Ravi brings water and feeds her. Elders pull Ravi's leg for being so much caring. They call her joru ka gulam. Ravi supports their comment. Keerti gets a call and goes to receive it. She looks tensed. Ravi wonders what happened to Keerti, is she in some trouble. The episode ends.
In today's episode, tempo driver comes there, sees the police and leaves. Raghu wonders what to do with the two girls now. Tempo driver informs him about police. Raghu asks him to leave the tempo for him and go away. Ravi questions the police. Malhar asks him to leave. Thakur calls Raghu. Raghu informs him about the police. Thakur orders him to not get caught by police and bring Keerti infront of him at any cost. Ravi gives threats that he will not spare anyone if anything bad happens to Keerti. He says that he doesn't need anyone and goes inside to search Keerti. Others try to stop him.
Raghu heard some noise and hides Keerti inside a cupboard. Home minister orders police to stop Ravi. Police blocks Ravi. Pratiksha requests everyone to leave Ravi and let him search Keerti. She informs everyone that it's Ravi's engagement too and he is searching his fiance Keerti. She requests Pratik to let Ravi do what he wants to do. Pratik convinces home minister. Home minister praises Pratiksha. Police agrees to co operate with Ravi. Pratiksha's dupatta gets stuck in Ravi's watch so Pratiksha's is pulled forward as Ravi goes to search for Keerti.
Kavya wonders about Keerti's whereabouts. She complains to Ravi's sister that Keerti needs weird attention everytime. She thinks that both Ravi and Keerti will return home after getting engaged in some temple as for both muhurat matters a lot. Ravi guessed right about what happened to Kinjal. Kinjal gains consciousness and says that Ravi is right. Ravi says that he won't spare anyone if anything happens to Keerti. Keerti thinks about jumping from the tempo to get rid of Raghu. The episode ends.
Click to read