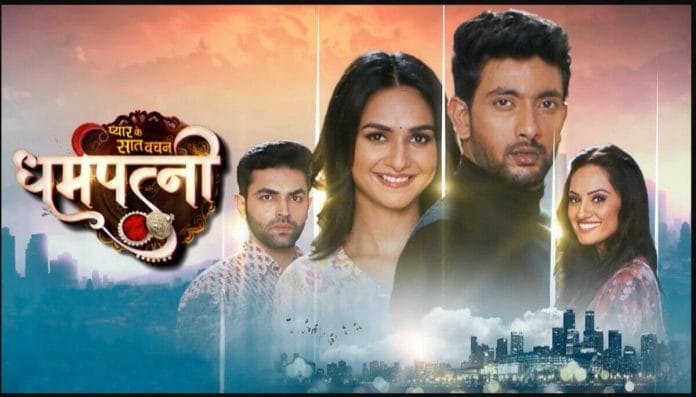 Pyar Ke Saath Vachan Dharampatnii 21st December 2022 Written Update on TellyExpress.com
In today's episode, Ravi tries to go behind Keerti. Kavya blocks his way and asks him to spend some time with her. Ravi fools everyone and runs away from there. Keerti leaves by his car. Ravi tries to call her but fails. Ravi notices that his bracelet is missing and feels that he has lost it at Pratiksha's engagement venue. Keerti goes to police station and asks the police to take immediate action against the goons. She says that she will help sketch artist to make sketch of Raghu. She also takes Thakur's name.
Police asks her to not take stress as they are trying their best to arrest them. Keerti threats the police to file a PIL through his father who is an influential lawyer. A police man who is Raghu's informer informs Raghu about Keerti. Thakur hears everything. He fumes in anger and says that he knows what to do. He loses temper and shots Raghu. Keerti gives police the tempo number. Ravi calls Keerti. Keerti asks him to wait and talks to the police. He hears their conversation regarding the tempo. He sees the tempo infront of his eyes. He tries to inform Keerti about the tempo but Keerti doesn't attend his call.
Ravi sees that Pratiksha is interacting with the tempo driver and wonders what she is upto. Then Ravi tells Keerti about the tempo but she fails to hear anything. Thakur asks Raghu to kill Keerti orelse he will kill him. Raghu says that Keerti leaves for her NGO everyday at 11 am. Thakur says that tomorrow will be the last day of Keerti's life. Ravi gets down from the car and finds his bracelet lying on the ground. Pratiksha spots Ravi. Ravi informs her that Keerti is found. Pratiksha thanks God and says that she prayed for both Ravi and Keerti. She learns that Ravi and Keerti got engaged.
Ravi and Pratiksha have a fun banter regarding the ladies bracelet. Ravi shows her photo to prove that bracelet belongs to her. His watch again gets intertwined with Pratiksha's dupatta. Pratiksha recalls the previous incident and says that she will remove her dupatta. Ravi's mother calls him and reminds him about going to mall for shopping next morning, she also says that Keerti will meet him at the mall directly. Ravi thinks that he can't stay away from Keerti for a second. Next day, Raghu and men wait outside Keerti's house. Keerti comes outside. They try to knock down her but Ravi pulls Keerti and saves her. Raghu says that they won't miss their target next time.
Keerti gets restless, Ravi comforts her. Ravi says that he won't let anything happen to Keerti ever. Keerti asks him what he is doing there. Ravi says that he has come to pick her up. He says that God wants him to be her protector. Ravi arranges body guards for Keerti. Ravi, Keerti sit in same car. Raghu's car follows their car. Thakur calls Raghu and asks him to send Keerti's picture to him. Ravi, Keerti go inside the mall. Keerti chooses dress for Ravi. Ravi tries to be romantic. Keerti teases him infront of others. Pratiksha and Malhar come to the same mall. Raghu tells his partner that he will kill Keerti anyhow this time. Raghu, Pratiksha, Malhar go inside the mall. Thakur and his men follow Keerti. They take knife in hands to stab Keerti. The episode ends.
Click to read