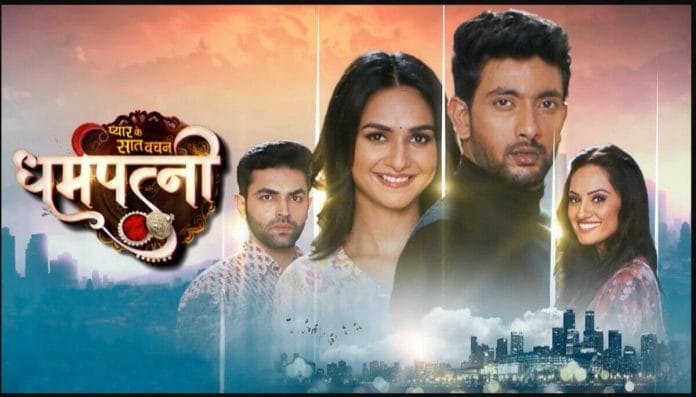 Pyar Ke Saath Vachan Dharampatnii 23rd January 2023 Written Update on TellyExpress.com
In today's episode, Ravi cries thinking about his and Keerti's incomplete love story. Pratiksha says that she will fulfill Keerti's unfulfilled dreams to make Ravi and Keerti's soul happy. Ravi blames Pratiksha for Keerti's fate and vows to punish her till death. Pratiksha says that she knows the pain of losing our loved ones. She wishes Ravi to forget whatever he has lost and move on in life. Ravi curses Pratiksha that she will crave for love of her dear ones like himself.
Keerti shows up and asks Ravi to not say such things. She says if Pratiksha is guilty she will be punished and asks Ravi to spend time with his family. She asks him to become his older version. Ravi says that old Ravi has died with Keerti. Keerti asks him to try. Ravi says that he can't be happy without Keerti. Keerti says that none stays with us for lifetime and asks Ravi to live his life without her. Keerti disappears.
Raghu sees that Pratik is not dead yet. Thakur calls him and asks him to end Pratik's chapter. Raghu goes to run over Pratik but few passers by rescue Pratik. Raghu leaves. Champa and Phuli call Pratiksha and tells her about radio night which is organised by the jail authorities for the prisoners to discuss about their lives etc. They ask Pratiksha to attend the radio night. Malhar feels sorry for Pratik and says that he will pray for his soul. Raghu informs him that Pratik is still alive and asks Malhar to kill him.
Malhar feels helpless as he has no other choice other than following Thakur and Raghu's order. Malhar calls Hansa to know about Pratik. He learns that Hansa is unaware of the accident and waiting for Pratik to come home. He decides to wait for Hansa's call before taking any action. Pratiksha learns that many prisoners want to attend her classes. Champa and Phuli thank her and call her God's sent.
Pratiksha asks them to thank her after she teaches them. She worries about the hearing but feels good thinking about her teaching work. Ravi thinks that he will fulfill Keerti's dreams and wishes her to stay with him. Ravi hears the radio night program while driving his car. Kinjal attends Hansa's call and learns about Pratik's accident. Kinjal becomes speechless. Hansa thinks it's a bad news about Pratiksha. Kinjal stumbles while speaking. Hansa slaps her.
Kinjal tells Hansa and Parul about Pratik's accident and that he is admitted in city hospital. Hansa cries and calls Malhar. Hansa asks him to come to City hospital. The prisoners request Pratiksha to talk to the RJ first. Pratiksha starts talking. Ravi finds the voice familiar. Rj asks Pratiksha about her topic of discussion. Pratiksha says Dreams and Education. Ravi smilies and says it's Keerti's favourite topic.
Pratiksha talks about the importance of education. Ravi recalls Keerti's words on the same topic. He feels that the prisoner on radio talks exactly like his Keerti. Everyone in jail claps hearing Pratiksha's words. Rj asks her who taught her all these. Pratiksha says that she learned everything from her parents and someone else also told her all these and she wants to fulfill the unfulfilled dreams of that person. Ravi wonders who the prisoner is and how come she talks exactly like Keerti. He decides to find it out. After the show ends, the prisoners and police women congratulate Pratiksha. They hope for Pratiksha to get justice. The episode ends.
Click to read