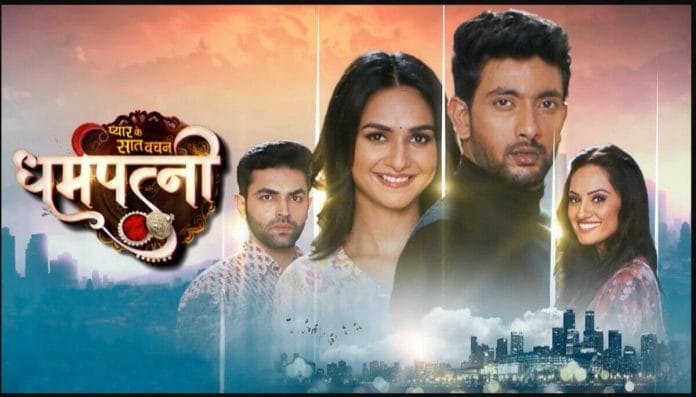 Pyar Ke Saath Vachan Dharampatnii 24th January 2023 Written Update on TellyExpress.com
In today's episode, Hansa reaches city hospital with Kinjal and Parul. They learn that Pratik is in the OT. Doctor informs them that Pratik's condition is critical as he lost a lot of blood. Hansa cries seeing Pratik. Malhar comes there. Kinjal tells him about the accident. Hansa curses the person who is responsible for the accident. Malhar plans to kill Pratik in order to save himself. Gulshan calls the inspector who sent Vimala in Pratiksha 's jail and lashes out at him.
He complains that Vimala is not doing her work as Pratiksha's popularity in jail is increasing day by day. He threatens to transfer the inspector. The inspector orders lady constable to help Vimala in her mission. Pratiksha feels restless in jai and recalls the time when her parents got killed. She prays for the safety of her family. Doctor informs Hansa that Pratik is out of danger but has to stay under observation for two more days.
Hansa becomes happy. Malhar gets tensed and calls Raghu. Thakur and Raghu again ask him to kill Pratik. Kinjal hears Malhar while talking and confronts him. Malhar changes the topic. Kinjal feels that Malhar is behaving weirdly. Vimala put a water pipe in Pratiksha's cell while she sleeps. Pratiksha wakes up and sees that her cell is filled with water. She asks for help but none comes. The inspector enjoys. Maanvi calls Mandeep and informs her what Gulshan is doing with Pratiksha. Mandeep supports Gulshan and says that Pratiksha deserves this treatment.
She asks Maanvi to meet to discuss over an important topic. She worries for Ravi as he has not come home yet. She calls Ravi. Ravi informs her about the prisoner who talks like Keerti and that he is trying to find out the prisoner. Mandeep asks him to come home first. Ravi agrees. Ravi wonders why he is becoming happy while recalling the words of that prisoner. Malhar convinces Hansa to go back home. Lady constable helps Pratiksha to come out of her cell. Inspector asks Pratiksha how all these happened.
Pratiksha remembers Vimala. She calls Vimala responsible for the condition and asks the inspector to take her complain against Vimala. The inspector refuses to take the complain. Pratiksha threatens him taking Pratik and commissioner's name. Inspector gets scared and gives order to shift Vimala. Thakur again calls Malhar and asks him to do the job as soon as possible. Malhar asks him to threaten Pratik on call.
Thakur asks him to do it. Malhar makes his mind to kill Pratik. Malhar catches two ward boys redhanded while gambling. He settles the matter and asks them to tamper Pratik's wheelchair. Pratik calls Malhar. He says that he has seen the CCTV footage and calls Malhar guilty. He threatens to punish Malhar for killing Keerti Sachdeva and says that Pratiksha will give testimony against him as he forced her to drive car. Malhar gets speechless. The episode ends.
Click to read