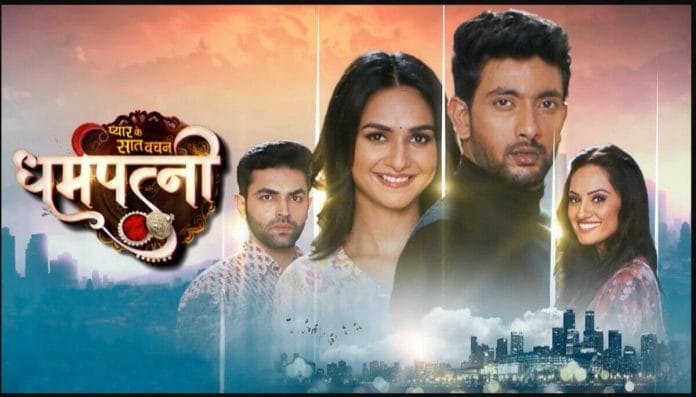 Pyar Ke Saath Vachan Dharampatnii 25th January 2023 Written Update on TellyExpress.com
In today's episode, Pratik shouts taking Hansa, Kinjal and Parul's names. He threatens Malhar saying that he will inform everyone that Malhar killed Keerti Sachdeva not Pratiksha. Malhar takes a pillow and suffocates Pratik to death. Kinjal comes to hospital and sees that Malhar is blabbering in sleep. Malhar wakes up and learns from Kinjal that Pratik is alright now. On the dining table, Ravi informs his family that he is going to find the girl who talks like Keerti. He leaves without having food.
Mandeep worries for Ravi. Pratiksha starts taking her first class inside jail. Vimala tries to disturb her class by playing loud music there. Pratiksha stops the music system and asks Vimala to attend her class. Vimala threatens to break Pratiksha 's head. Pratiksha doesn't care and sticks to her words. Vimala does react as she gets to know that commissioner in coming for rounds. Pratiksha starts teaching English.
Malhar goes to meet Pratik. Pratik ignores him. Malhar asks him to not worry about Pratiksha as he is there for her. Pratik says that he doesn't need Malhar's help. He also tells that he will soon get the CCTV footage with the help of commissioner. Malhar promises to solve Pratiksha's case as soon as possible. Pratik asks Kinjal to promise that she won't inform Pratiksha about his accident. Ravi reaches the police station and wishes to meet the prisoner who talked on radio night. He hears Pratiksha's words while she takes her class and recalls Keerti.
However he gets shocked and angry seeing her. He lashes out at her for playing with the emotion of a dead person. Pratiksha tells Ravi that she understands his emotions but she will not tolorate his nonsense. Ravi accuses Pratiksha for taking advantage of Keerti and killing her at the end. He announces that Pratiksha is a cold blooded murderer. Pratiksha asks him to stop and not snatch the happiness she gets by teaching. Ravi says that she doesn't deserve any happiness and he will snatch all her happiness. He leaves.
Vimala calls Pratiksha a murderer. The prisoners ask Pratiksha to not be sad and fights back for herself. Pratiksha agrees and decides to fight back. She says that old Pratiksha is dead, she is the new Pratiksha who does not tolorate any bullshit and stands up for herself. Nurse tells Pratik that he will get discharged soon. Hansa comes to meet him with Malhar. She asks Pratik to let Malhar handle Pratiksha 's matter. Pratik says that he doesn't need anyone's help. He gets a call from an influential lawyer and leaves hospital to meet him.
Mandeep and Manvi talk about Ravi. Mandeep goes to Kavya's room to meet her. She spots Ravi's photographs in her wardrobe. Ravi wonders how Pratiksha is being happy after all these. He decides to snatch all her happiness. Jugni predicts that Ravi and Pratiksha's current equation will change drastically. Pratik reaches police station with lawyer. Lawyer submits Pratiksha's bail papers. Pratik asks inspector to release Pratiksha. Inspector orders to release Pratiksha. Mandeep finds a love note in the back of a photograph and learns that Kavya is in love with Ravi since long time. Kavya comes there. The episode ends.
Click to read