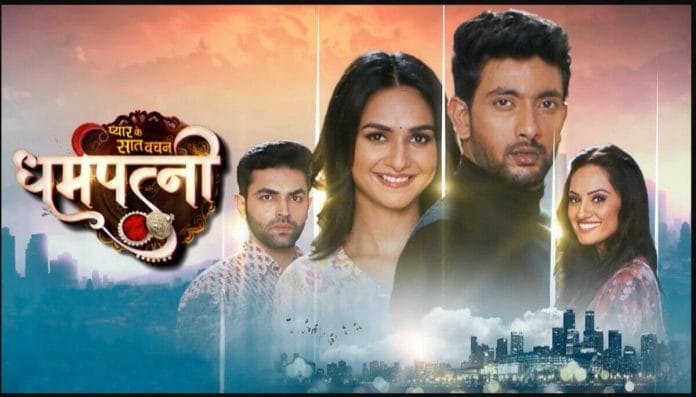 Pyar Ke Saath Vachan Dharampatnii 26th January 2023 Written Update on TellyExpress.com
In today's episode, Mandeep asks Kavya about the photographs. Kavya lies that the photographs belong to Keerti. Mandeep finds another photograph of Ravi and Kavya. She understands that Kavya is hiding the truth, all these belongs to her only. Mandeep confronts her and says that she will inform all these to Manvi and Gulshan. Kavya requests her to not do that and tells Mandeep about her feelings for Ravi. She accepts that she loves Ravi a lot, can go to any extent for him and not able to see him in such condition.
Mandeep asks her if she will stand by Ravi whole life and love Ravi like Keerti use to love him. Kavya replies more than that. Pratiksha thanks Pratik for whatever he has done for her. Pratik asks her to not thank him but the lawyer who is the best lawyer of Delhi and his childhood friend. Pratiksha thanks the lawyer named Ashok. She calls Ravi's hurtful words. Pratik asks her to forget everything and go back home. Malhar informs Thakur and Raghu that Pratik is still alive.
Thakur slaps him. Raghu calls him useless. Malhar says that he will kill Pratik today and leaves. Mandeep meets Gulshan and Manvi and talks about Ravi and Kavya's alliance. They get shocked after learning about Kavya's love for Ravi. Gulsha says it's impossible. Kavya cries and says that it's the correct time for her and Ravi to come together to heal Ravi's broken heart. Manvi says that Ravi will never be able to love Kavya. Kavya says that she will win Ravi's heart. Manvi says it's not possible.
Kavya cries and runs away from there. She locks herself in room. Mandeep, Gulshan and Manvi request her to come out. She says that she sacrificed her love for Keerti but not anymore. She tells her parents that they will lose their another daughter aswell. Gulshan, Manvi get scared. Mandeep says that she is with Kavya and asks her to open door. Kavya says that she can't live without Ravi. She takes a knife and cuts her vein.
Gulshan breaks door. He, Mandeep and Manvi come inside. Mandeep calls Ravi and informs him about the situation. She calls doctor. Manvi, Gulshan cry for Kavya. Hansa asks Pratiksha to forget whatever happened and get ready for her marriage. Malhar comes home. Hansa asks Pratiksha to go and talk to him. Malhar tells Pratiksha that he is happy to see her back. Pratiksha reminds Malhar about her doubts which she raised earlier. Malhar asks her to forget all these and tries to change the topic.
Hansa comes there and says that her dream will get fulfilled when Pratiksha and Malhar will get married. Pratiksha asks if they can delay the marriage. Pratik asks why not. Malhar asks Pratiksha if she wants to marry him. Pratiksha says yes. Doctor treats Kavya. Ravi comes home and learns from Mandeep that Kavya has attempted suicide for him. Mandeep asks him to marry Kavya. Ravi says that he can't think about anyone else other than Keerti. He says that Kavya will always be his friend only.
Mandeep reminds him about Keerti's promise. He recalls that Keerti asked him to marry Kavya if anything happens to her. Keerti forced Ravi to promise. Mandeep was present there. Ravi becomes thoughtful. Kavya says sorry to Gulshan. Gulshan asks her to think over the matter again. Ravi comes there and says that he wants to marry Kavya. Manvi reminds him that he doesn't love Kavya. Ravi tells them about the promise and asks Kavya if she will marry him. Kavya says yes. Gulshan asks Ravi to keep Kavya happy. The episode ends.
Click to read