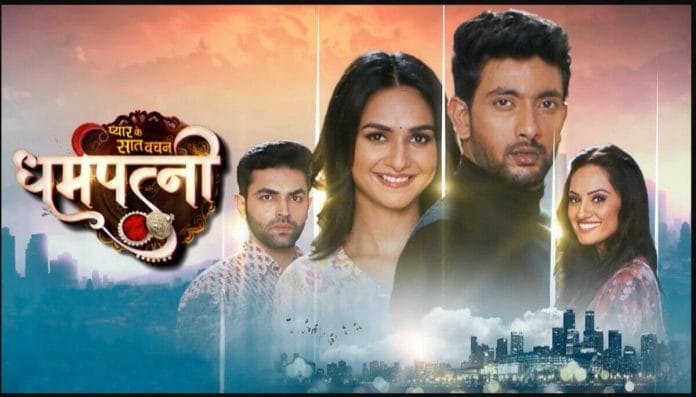 Pyar Ke Saath Vachan Dharampatnii 3rd January 2023 Written Update on TellyExpress.com
In today's episode, Ravi keeps talking to Keerti. He asks her to not lose her breaths. He says that he has more love to give Keerti and receive more love from her. He tells her that he didn't like the outfit Keerti chose for him as he is a Punjabi groom but the outfit Keerti chose was for Gujrati grooms. He continues to talk but Keerti doesn't reply anything. Ravi says that whenever Keerti does some mischief she becomes silent like this so that Ravi can't scold her. Malhar gets scared seeing the naka checking. He gets a dream that he got caught by police for killing Keerti. He screams , Pratiksha asks him what happened. He asks Pratiksha to drive the car for rest of the journey. He also says that he is going to join as police officer tomorrow and doesn't want police to arrest him for drinking and driving.
Pratiksha hesitates as she doesn't know driving very well. Malhar insists her to take over the driver sit. Pratiksha agrees half heartedly. She still sits on the driver sit. Malhar goes to the back seat and hides himself. He asks Pratiksha if she knows the basics of driving, Pratiksha says yes. Malhar asks her to start driving and says that he will give her the instructions from back seat. Pratiksha starts driving. Police stops their car at Naka checking and asks Pratiksha to show the papers of the car. Malhar handsover the papers to Pratiksha. Pratiksha shows them to police. Police let her go.
Malhar feels relieved. He thinks that his stars are shining that's why he got saved for the second time. He hopes for Keerti's death and plans to settle well with his new job and Pratiksha. Ravi reaches hospital with Keerti. Doctor checks her and says that her condition is critical. He says that Keerti has to undergo surgery. Keerti holds Ravi's hand. Ravi tells doctor that Keerti wants him to accompany her. Doctor says that such things can happen due to muscle pull. Ravi says that she can understand Keerti's body language not doctor. Doctor agrees with Ravi and let Ravi stay with Keerti.
Ravi sits beside Keerti as the doctor and nurses gear up for the treatment. Ravi recalls the moments he and Keerti spent together. Jugni again senses danger. She does hawan and asks the god to not punish the innocent soul. Pratiksha reaches home. Hansa gets sick as she commits for the 3rd time. Kinjal tells her that Hansa overate at the venue. Pratiksha feels that Hansa is having food poisoning. She gears up to call doctor. Pratik asks her to not stress and calls their family doctor.
Ravi and Keerti's family reach the hospital. They go near Keerti's cabin and sees that Ravi is sitting beside Keerti. Doctor asks Ravi to go outside as they need to start the surgery. Ravi goes out and looks at Keerti from the glass window. Keerti's parents get emotional seeing Keerti's condition. Her mother says that Keerti never even need an injection. Ravi's mother cries for Keerti and prays for her recovery as Ravi can't survive without her. Aditya comforts her. Kavya sees Keerti and cries. She asks their mother if Keerti will be fine as she wants to talk to her. The episode ends.
Precap – Doctor says that Keerti needs AB- blood urgently. Ravi and others become desperate to get the blood but they fail to arrange it from anywhere. Keerti looks dead.
Click to read